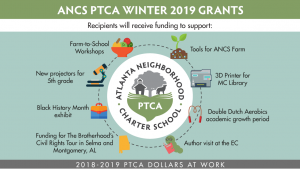 PTCA Grants provide funding to teachers, staff, parents, and the school community for projects that directly impact our curriculum and classrooms as well as our school environment. A few examples of past grants awarded include: a wireless intercom system for the MC Drama Club, audiobook subscription for the 5th grade, mini-chalkboards for kindergarten handwriting practice, educational games and programs, new floor seating for the library, and field day supplies.
The PTCA will be accepting applications for the second round of Grants from January 3 – 17, 2020. As a reminder, this will be the last grant cycle for the 2019-2020 school year. We encourage ALL members of the community (teachers, parents, students, etc.) to apply for grants.
For more helpful information and link to application, please visit the Grants page on the PTCA website.