PTCA Meeting & Family Picnic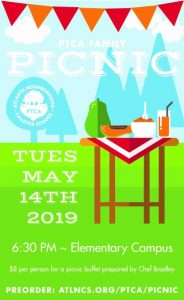 What better way to wrap up the school year than with a family picnic? Join us on May 14th at 6:30pm at the Elementary Campus for some family fun and great food. We'll wrap up the year and approve 2019-2020 PTCA Executive Committee slate. There will also be a special performance by the ANCS Chorus!
Dinner is buffet style prepared by Chef Bradley, and just $8 per person. It must be pre-ordered.
Menu:
Fried Chicken
Coleslaw
German Potato Salad
Watermelon
Rolls
Ginger Cookies & Rye-Sesame-Chocolate Chip Cookies
Lemonade & Iced Tea