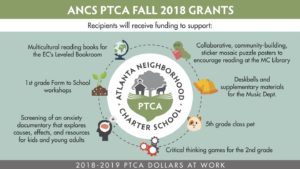 One of the initiatives the ANCS PTCA is proudest of is our Grant Program. Thanks to financial support from our members and event sponsors, PTCA is able to fund programs, activities, and materials that enhance students' experiences at the school and help supplement teacher and classroom resources. We encourage all members of the community to apply for grants.
Grant Application Requirements:
Please note that all applicants must belong to the PTCA .
The maximum approved amount for any grant awarded by the PTCA is $1,000.
All money awarded must be spent or allocated within 30 days.
For more helpful information, including tips to get your grant funded, please read the Grants Guidelines page on the PTCA website. The PTCA Winter Grant Application website goes live Friday, January 4, 2019 and all applications are due by Friday, January 18, 2019.