Raffle Basket Donations for Wonderball 2023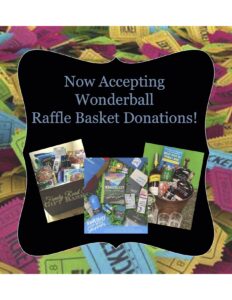 The Party of the Year is 39 days away… We are finalizing Wonderball Raffle Baskets and in keeping with a 20 year tradition, we need Community donations to make them worthy of a 20th Anniversary Celebration!!!
Mrs. Keller and Mr. Bubes have done an amazing job with student art!  Parents, it's your turn to donate and contribute:
Tickets – concert, performance, museum, sporting, festivals, etc
Experiences – back stage passes, adventure pass, art/music/dance class, summer camp, wine tasting, private dinner, workshop, sporting activity, etc
Services – spa, hair, yoga, tattoo, Chiropractic, vehicle, design, legal, photography, landscaping, culinary, anything you use in life!
Gift certificates – Big and Small!  Any store, service, activity, etc
Wine & Spirits – Any variety $25+ value
Art and Crafts – So many options!  It's a gift from the heart
Vacation – Air BNB Rental, Weekend cabin get away, cruise, air travel, train ride, boating tour…it can be local or far!
Please message Rebecca at rebeccaf1919@gmail.com to give!  If you prefer a financial gift, please give here!
Thank you!
It Takes A Village