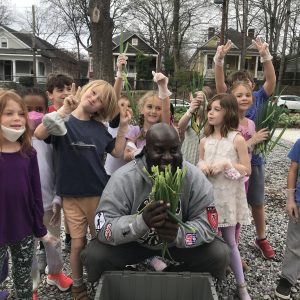 Students at the EC farm have been engaged in all aspects of the transitional work that helps us shift from one season to the next. Various classes in grades 1-4 helped harvest on Monday or Thursday mornings, with over 800 lbs. of school-grown produce going to the cafeteria in January and February. Kids in AfterCare have been getting their hands dirty–SO dirty:)–clearing out beds to make way for new plants. And Kindergartners and 1st graders have been exploring their school farm ecosystems, collecting and observing living and nonliving things and flexing their 'noticing' muscles using all their senses. With warming temperatures and flowers blooming, the insects have been busy and there's a lot of activity to take in.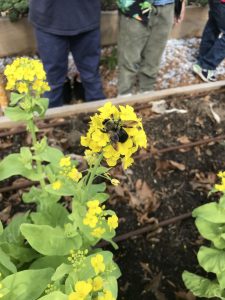 Middle campus students in the MC Farm Club gathered for our inaugural meeting last Tuesday after school, and 11 students spent time sharing what they're interested in learning, what they'd like to grow on the farm, and painting numbers on our new raised beds. This week, they will be transplanting lettuces and seeding root crops and tasting local Georgia-grown citrus. It's never too late to sign up and take part in the work/fun, so feel free to sign your student up here to join us on Tuesdays between 3:30pm-5:00pm.
You may have noticed the new concrete slab that was poured on the EC farm during mid-winter break. That is the site of our new farm wash station and outdoor classroom. Now students can not only wash hands after their farm work, but will be able to clean the harvest before it goes to the cafeteria for storage and preparation. This will help our awesome custodial staff (no more dirty sinks in the bathrooms!) AND our dedicated nutrition staff, as well as supporting the students in their knowledge of how to safely handle the produce after it's picked.
All in all, the stoke for Spring is high and the enthusiasm for farm work at school continues to grow. Here's hoping you're getting a chance to talk to your student about their food and farm learning, or at the very least, enjoying the warmer temperatures and longer days together outside. Wishing you well, as always!