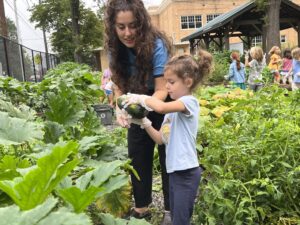 Students have been busy planting fall crops at both campus farms. They're sowing root crops like carrot, turnip, beet, and radish, as well as transplanting kale, collards, pac choi, lettuces, broccoli and romanesco. Next up will be spinach planting in preparation for Farm to School month in October; this year's theme is Spinach to Win It! With so much focus on the upcoming season, it can be easy to overlook all the summer goodness that is still being harvested and enjoyed. Students are harvesting okra twice weekly, as well as bringing in cucumbers, sweet peppers, radishes, watermelon, muscadines, and just this week, blackeyed peas drying on their bushes, ready for use in school lunches this fall and winter.
Last Thursday, Sept. 8, all middle campus students had a lesson during advisory that introduced them to the farm–why we grow food at school, why we keep chickens and what care they need to thrive, and how the students can get more involved. They learned how to support Team Chicken, that any student can come down to the farm Monday, Wednesday, and/or Friday mornings between 8:10-8:25, to work with Farmer Jillian to care for our hens. And the students got more details about the MC Farm Club that takes place on Tuesday afternoons after dismissal until 4:30pm. At the end, students reflected on why it matters that we grow and eat close to the source, the importance of composting our food and plant waste, and how we can build community through food. Special shout-out to some of the MC Farm Club students for creating video content for the advisory lesson! They wrote scripts, filmed, appeared on camera, edited, and added music. Thanks to Naomi Wells, Marleigh French, Cora Lupo, Anders Koch, Holden Humphrey, and Alexander Hansen.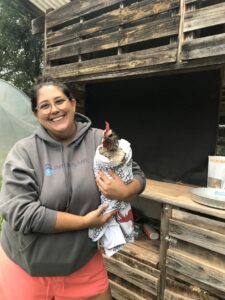 Speaking of chickens, our feisty flock had a vet visit recently with Dr. Alicia Moon of Moon Mobile Veterinary Service. One hen in particular–our dear Oreo–needed some special care, and all our ladies needed a general check up. We're working closely with new school parent and local chicken whisperer, Sareh Baca, to ensure that our ladies have everything they need, and we're really grateful for her time. If you are curious about chickens and interested to learn more about how to care for them, feel free to join us for MC farm work days specifically geared towards supporting our coop and hens. Email Nichole Lupo at nlupo@atlncs.org to express your interest. Thanks so much!