Greetings, school farmily! Fall in the ATL is full of beauty and wonder, and there's no better place to experience it (IMHO) than our school farm. Alongside all the work and learning, students have been pausing outside to notice the leaves changing color and falling, to marvel at the newer fall veggies that are "SO big already!", and to stand in awe of the neighborhood hawks that visit each campus.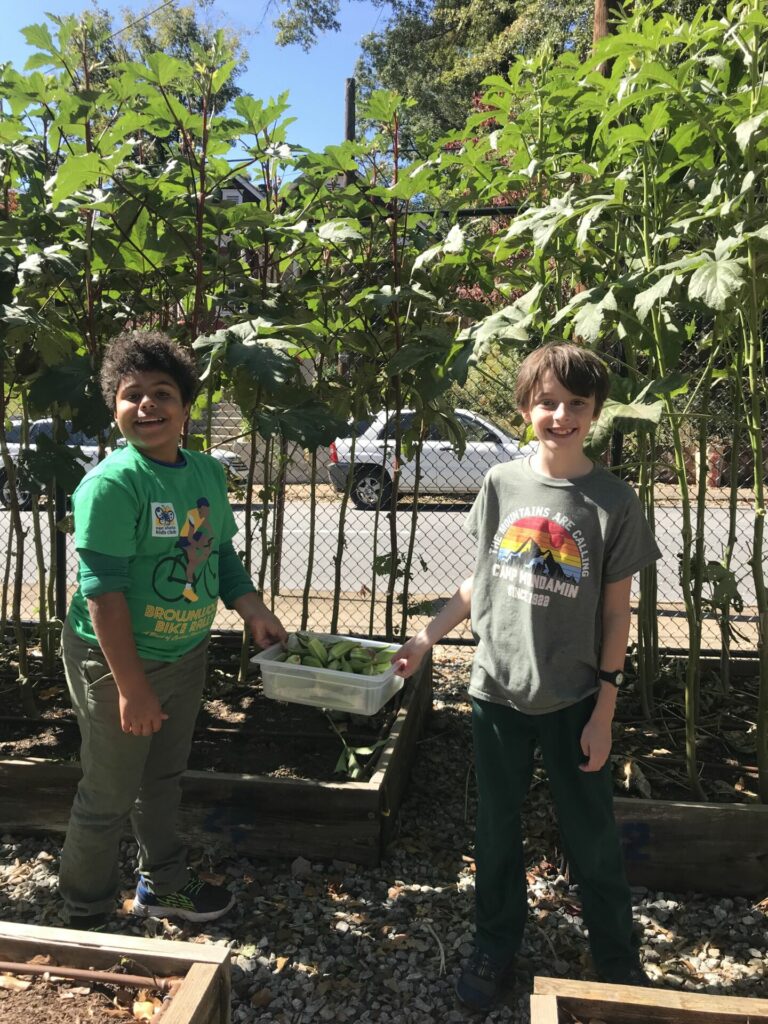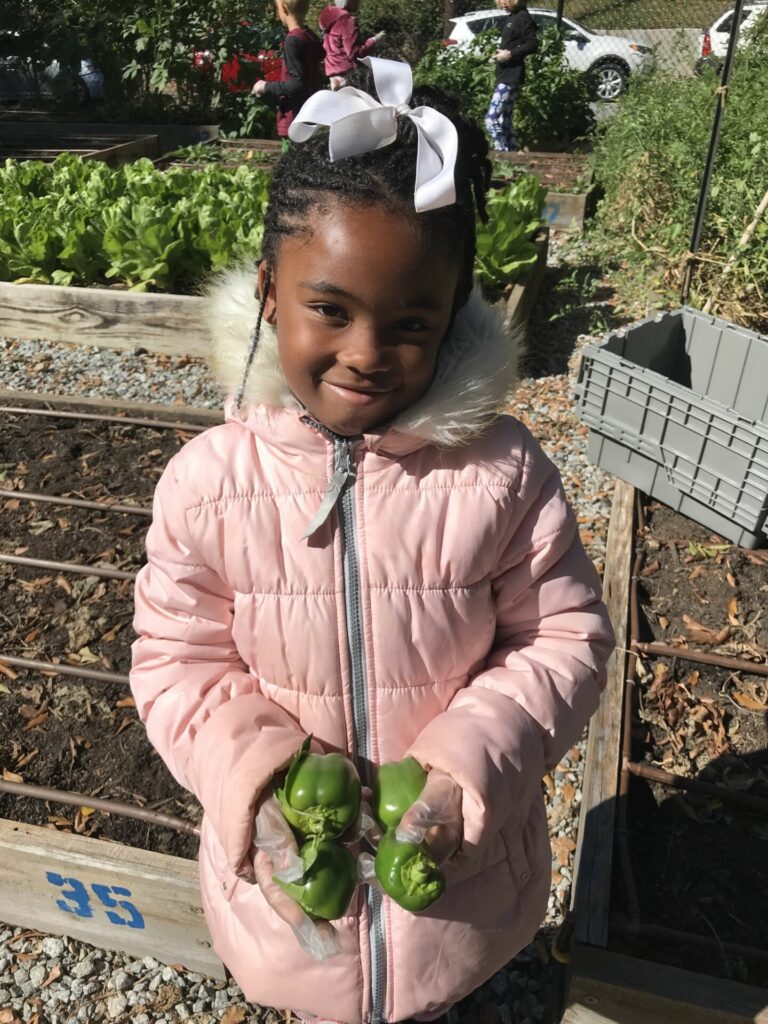 Students at the Elementary Campus have been busy harvesting the last of the summer fruits and clearing those plants from the beds; we've bid farewell to slicer tomatoes, yellow squash, and watermelon so far. We're still receiving a delicious trickle of cowpeas, okra, peppers, and cherry tomatoes, but the real work has been in the beds of fall crops. Our youngest farm workers have harvested radishes, carrots, turnips, and nearly 200 pounds of lettuces. They've been busy seeding spinach, transplanting successions of kale, collards, and other brassicas, and putting in garlic and onions to over-winter. Next up, we'll be processing our luffa gourds! Another exciting addition to the farm calendar is the return of our Friday 5th grade farm club. Students have the option to join me on the farm to work and have some fun during their recess on Fridays, and we kicked it off this year with 5th graders Aaron Jones and States Sanders. They harvested okra–some for eating and some for seed-saving–and planted several beds of spinach. Their sweet stories and funny observations are the perfect ending to a week on the farm!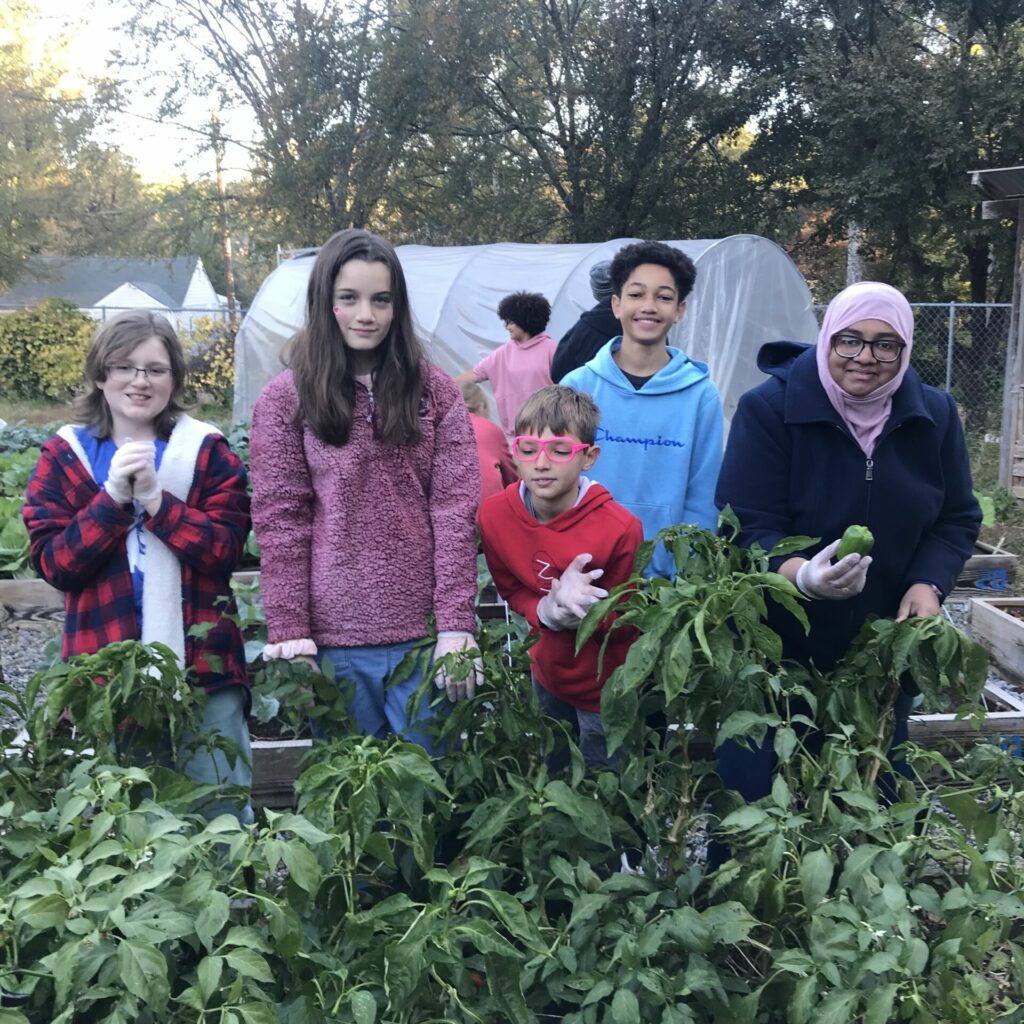 The Middle Campus farm recently welcomed all of the students over the course of two days during their Health and PE classes. They explored the farm, taking note of the variety of foods they grow, and reflected on why diversity in ecosystems is so important–in nature, in community, and within our own bodies. Students removed an abundance of weeds from the terraced area of the farm in preparation for planting a strawberry patch, herb gardens, perennial food beds (think asparagus!), and wildflowers for our pollinators. And now, each Friday morning, advisories will be taking turns visiting the farm to harvest foods for our school meals. Last week, the Afzal/Wright 6th grade advisory kicked off this new initiative by harvesting sweet peppers, lettuces, radishes and turnips, and this week, we'll welcome the Hinton/Pettes 8th graders to join in on the fun.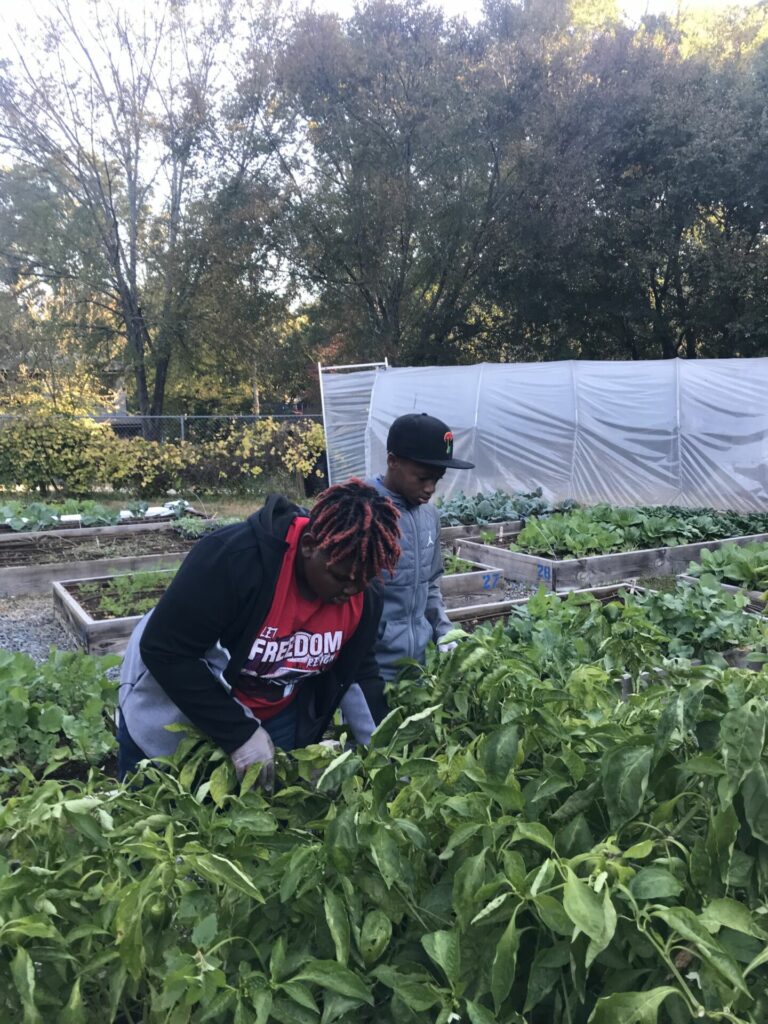 And finally, a quick update on two important art projects on the farm. The MC Farm Club partnered with students in the Gender Sexuality Alliance (GSA) to transform some old decorative fence panels into a symbol of welcome and inclusion for all who enter the Middle Campus farm. They painted each panel a color of the rainbow flag, and we spent our time sharing and conversing about creating safe spaces for everyone in food and farming. Check them out next time you walk or drive past the farm gate on Emerson Ave. Also not to be missed is the gorgeous stained glass piece created by last year's 5th grade students, with support and guidance from art teacher Carol Keller, entitled "Farm." It now hangs from the farm classroom at the Elementary Campus, and it catches the morning light in such a lovely way. While we focus much of our efforts on the production of nourishing foods, the importance of art and beauty for feeding the soul cannot be overstated. Please enjoy these wonderful creations by our talented, thoughtful students! And as always, thank you for the ways big and small that you support us on the farm–we appreciate you so much.
---
Nichole Lupo
Nichole joined the ANCS faculty in the Fall of 2021 as the School Farm Specialist. Prior to coming to ANCS she worked at the Wylde Center as the Farm to School Manager, where she taught students in City Schools of Decatur in their garden classrooms, implemented two district-wide taste tests each year, and managed high school summer interns at farms, restaurants, and farmers markets around Decatur and Atlanta.