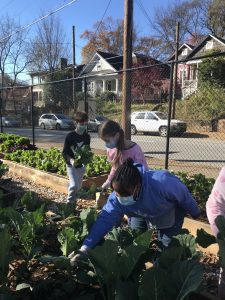 As we approach the Winter Solstice on December 21, the sun sets earlier a few minutes each day. After that shortest, darkest day of the year, we begin marching slowly and steadily toward Spring. Lucky for us, we live in Georgia, which means year-round growing in our farms and gardens.
Students at the Elementary Campus have been busy learning and growing on the school farm throughout the month. Fourth graders cooked and ate green beans to study the water cycle, fifth graders sprouted black-eyed peas in the classroom while exploring the shared characteristics that determine the families our plant foods belong to, and first graders are continuing their study of plant parts and needs by tasting fruits like cucumbers and finding different types of seeds on the farm. Many students in AfterCare created colorful, informative signs for our school farm and planted tulip and daffodil bulbs to our large round raised bed to provide an early Spring food source for pollinators. Several third grade classes helped Farmer Musa and I harvest nearly 200 pounds of collards, curly kale, Red Russian kale, and lettuces over the course of several weeks, and we even enjoyed our first harvest with Kindergarten friends.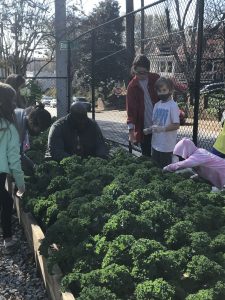 As an extension of our school farm education programming, I've been selecting a different book each week to read aloud to students in their classrooms. This months selections were all about the various holidays that are celebrated in our country during the month of December, with a particular focus on food traditions. From delicious latkes during Hanukkah and Chef Carla Hall's beautiful story of her grandmother's Christmas cornbread, to the Seven Principles of Kwanzaa and the feast of Karamu, we've had a wonderful time exploring and discussing the many different ways we come together around food. It truly is the great equalizer, these meals we create and enjoy, and we all have stories to share with each other.
Finally, the Health and Wellness board in the lobby has been updated with many photos of your students working in and learning on the school farm. The next time you're signing in or picking up, take a moment to see how they've been engaged in wellness in a big way–from caring for the plants while taking in the fresh air and sunshine to helping feed our school family, there are many approaches to supporting our health and the health of our community.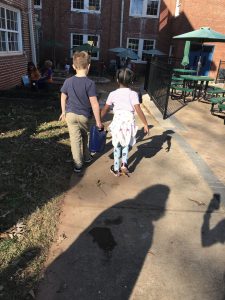 I'm so grateful to be in school family with you and your students, learning alongside them and sharing the beauty and meaning of food in our lives. As always, I'm wishing you well and offering blessings for a healthy, happy new year!