School Farm Update from Ms. Lupo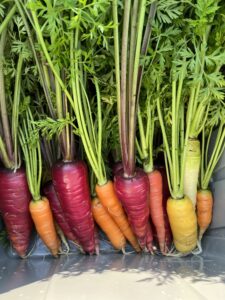 Happy December, farm friends! The days continue to darken ever earlier and surprise us regularly as we move closer to the Solstice on Dec. 21st. While we've come to expect certain unusual phenomena farming in late fall/early winter in Georgia– like spikes in temperature or weeks of seemingly endless rain–we currently have strawberries fruiting and okra flowering and it's all a little strange to see.
The real challenge lately has been our teeming, hungry squirrel population. They are clearly missing something in their diet, as they've eaten over a thousand seedlings throughout the fall! If you can recall the sea of cooking greens thriving at the elementary campus this time last year, things are vastly different right now thanks to them. The middle campus farm has been largely spared, and we're grateful for that.
It's not all squirrel bummers, though, since we're still harvesting and eating lots of carrot, radish, turnip, and lettuce from both sites, and the middle campus is providing cooking greens like bok choy and mustards. We've also produced some unique-to-us Brassicas, like cauliflower and purple kohlrabi, and that has been a treat for students and adults alike.
Students have been busy harvesting dried pods and fruits in order to extract and save seeds. As of now, we have seeds from onions, cowpeas, sugar snap peas, okra, and bush beans. We're also in the midst of processing our luffa gourds, which involves peeling away the skin and rinsing out any remaining stringy flesh to reveal the fibrous interior and seeds. The luffa thrived on our farm all summer and fall, so we'll definitely be saving those seeds, too. Before we head out for our winter break, students will be broadcasting a cover crop mix of peas and oats to feed the soil and hold it in place until we begin planting again in March.
Finally, we have scheduled improvements to our greenhouses over the break in order to get us ready for seeding spring crops beginning in late January. We're also working on a calendar for recurring monthly school family workdays at each campus farm, so keep your eyes peeled for the schedule and sign-ups in the January farm update in the Courier. As always, we're so very grateful for the time we get to spend with your students in nature, exploring and growing food and learning alongside one another. From the farm crew to all of you, peace and blessings in the new year!
---
Nichole Lupo
Nichole joined the ANCS faculty in the Fall of 2021 as the School Farm Specialist. Prior to coming to ANCS she worked at the Wylde Center as the Farm to School Manager, where she taught students in City Schools of Decatur in their garden classrooms, implemented two district-wide taste tests each year, and managed high school summer interns at farms, restaurants, and farmers markets around Decatur and Atlanta.