Happy 2022, school farmily! Our return to school found us exploring the Elementary Campus (EC) school farm and enjoying farm lessons virtually at first, and then making our way out in person to harvest, learn, and explore once we returned to campus. The bitter cold temperatures and icy wind took a toll on the delicate lettuces to be sure, but the hardy greens are only getting sweeter.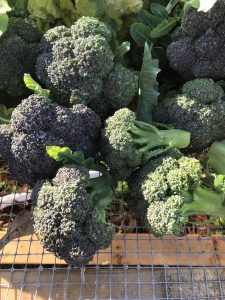 Students have finally gotten to harvest broccoli and Asian greens from the EC farm, with 2nd graders not only picking but washing, too. 1st grade friends harvested kales and collards, and our lovely green onions were featured on Chef Bradley's delicious focaccia bread last week. Soon we'll be starting seeds in the greenhouses at both campuses, as well as transplanting young plants in the new beds at the Middle Campus school farm.
Speaking of the Middle Campus… AfterCare Farm Club will take place on Tuesdays from 4pm-5pm starting on Feb. 22, 2022, and we'll spend our time tending seeds, plants, and soil, as well as planting perennial foods and flowers and nurturing the flock of chickens. If you have a middle school student that is curious about or excited by plants, food, and nature, please sign them up to join the learning and fun on Tuesday afternoons.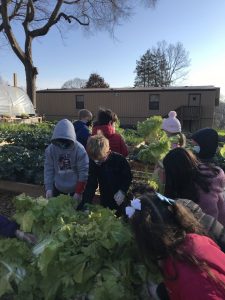 Our weekly farm- and food-focused read-alouds have continued at the EC, with January books relaying stories of New Year's food traditions here and around the world. February and March books will be celebrating and honoring the brilliant contributions of Black Americans to food, farming, and environmental science, with all of March dedicated to Black women leaders in the field (March is also Women's History Month!). Given our school's Black History Month theme of Health and Wellness, it is a wonderful opportunity to highlight the fact that the ways we grow and prepare food can be directly linked to the efforts, discoveries, and teachings of Black Americans. Black history is American history, after all.
As always, I'm so grateful to be exploring, learning, and growing alongside our wonderful students.