While the calendar says it is so, the telltale sign is the Great Pollening that makes it official–Spring has arrived in the A, and it's arguably the most beautiful time of year in our fair city. Allergies and insects aside, our students are still loving their work on the farm, and it's been fun to add new tasks to the workdays and broaden our horizons.
In addition to adding new, younger versions of some of our lunch menu staples–lettuces, Asian greens, and brassicas–students at the EC farm have also planted sugar snap peas, Hakurei turnips, and radishes. We're also growing some things in Beds #1-11 just for the excitement of growing, learning about, and tasting them, including kohlrabi and arugula, and next up are things for summer: beans, squash, tomatoes, and melons. Many of the same plants are going in at the MC farm as well. Lettuces and greens are thriving, and the MC Farm Club has been weeding, watering, and will be planting many flowers for our pollinator friends.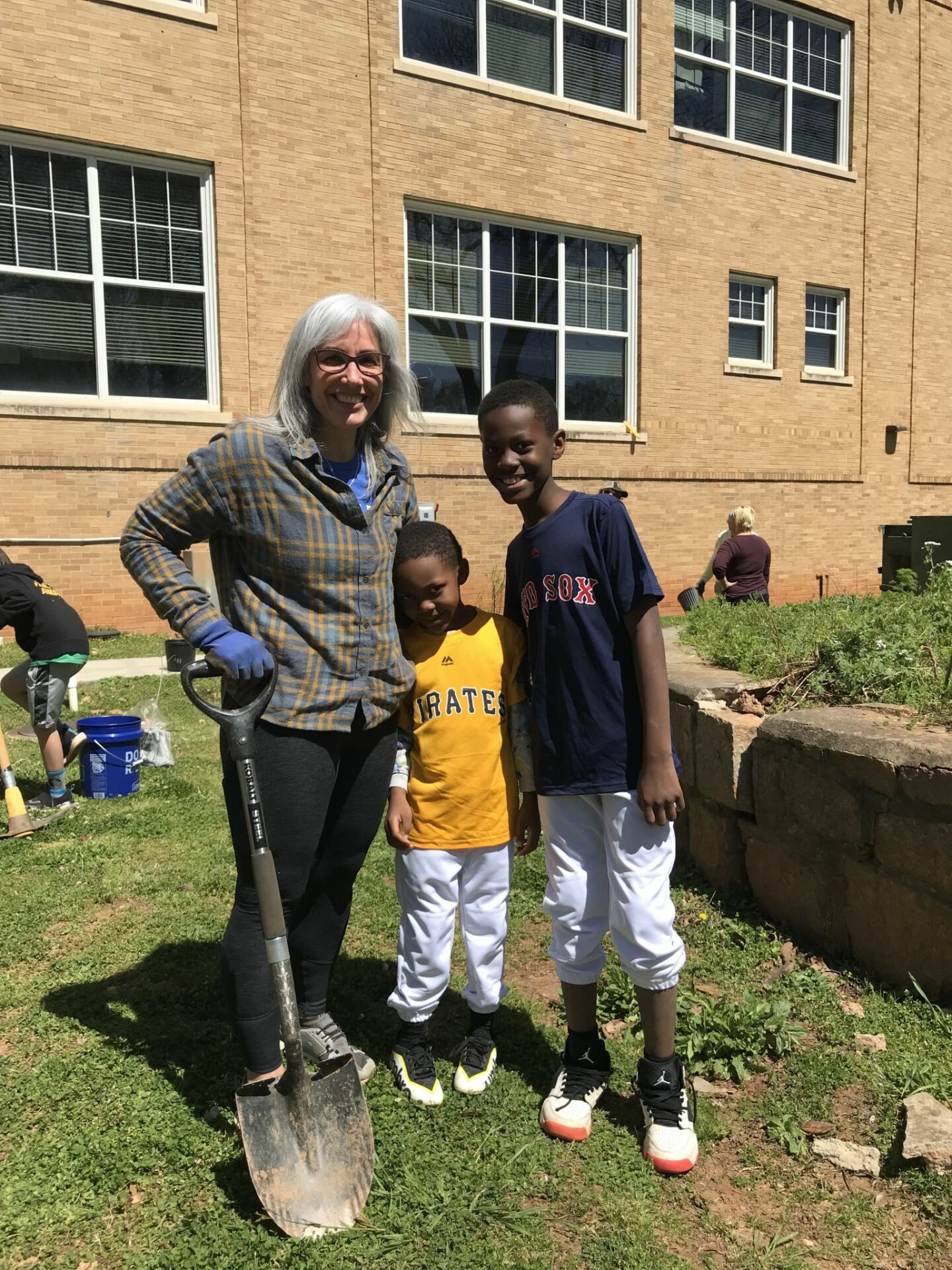 On the last Saturday in March, roughly 25 members of our school family spent the early afternoon planting fruit trees and bushes on and around the EC farm. In total, we planted 20 blueberry bushes, five apple trees, four muscadine vines, three pawpaw trees, and two figs. We had students from every grade, Kindergarten through 5th, in attendance, and the adults included many parents, several teachers, and our awesome principal, Ms. Zelski. With tender care during this important first year of growth, we can look forward to decades of delicious fruit to come.
We're thrilled to share that our school farmers, Micole and Musa, have hired a new farmer to assist with the farm sites at both campuses. Her name is Jillian Crocker, she hails from Chicago, and she just moved to Atlanta a few months ago. She is thrilled to be farming here in Georgia, and she's very excited to get to know our school family. If you see her outside at either site, please take a moment to say hello and introduce yourself.
Last but certainly not least, if you're interested in learning more about why we farm at school, particularly as it relates to our school values of equity and inclusion, please don't miss the Food, Farm, and Culture event co-sponsored by DEAT (Diversity Equity Action Team) and the PTCA. It's taking place Tuesday, April 19, from 6pm-7pm on the Elementary Campus farm. We'll be listening and learning and working together on the farm, and our wonderful nutrition team will be providing light refreshments made with our school farm produce. I look forward to seeing you there, and as always, I'm wishing you well.
---
Nichole Lupo
Nichole joined the ANCS faculty in the Fall of 2021 as the School Farm Specialist. Prior to coming to ANCS she worked at the Wylde Center as the Farm to School Manager, where she taught students in City Schools of Decatur in their garden classrooms, implemented two district-wide taste tests each year, and managed high school summer interns at farms, restaurants, and farmers markets around Decatur and Atlanta.