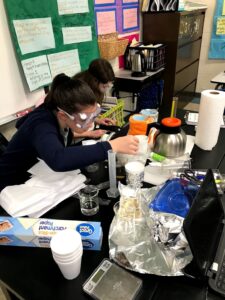 Students at Neighborhood Charter enjoy a rich exposure to a variety of areas in science, technology, engineering and mathematics (STEM). While we have not pursued a STEM certification, our approach to education is appropriately broad and multi-faceted, and students have many opportunities to focus on these topics at every grade level.
Despite accounting for around half of the employed US workforce, women in the United States make up only a third (34%) of those employed in STEM occupations. When women are not well represented in these fields, everyone misses out on the novel solutions that diverse participation brings. At Neighborhood Charter, female STEM educators are an important part of our community and we are proud of the creativity, productivity, and innovation they foster in all students. In honor of Women's History Month, which kicks-off today, we'd like to highlight the various STEM projects, initiatives, and explorations as described by some of our amazing female faculty members.
ELEMENTARY CAMPUS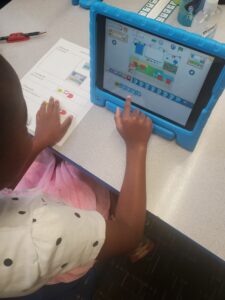 Technology is integrated into all grade levels at the Elementary Campus. In the lower grades, we have iPads and touch screen chromebooks to make learning accessible for little hands that are still working on fine motor skills. We also have screenfree robots that we use to introduce computational thinking skills such as algorithms, pattern recognition, debugging, and problem-solving! These robots include Beebots, Stem Mice, Kibo, and Ozobots. In the library and in small groups settings, we integrate the robots into the students curriculum, so students may use coding skills to find CVC words, continents, rhyming words, or learn map skills. We also tie the robots to storybooks that the students may hear during a read aloud in the library. Students will listen to the story and then have to code their robots according to the sequence of the story. This is a great way for students to show off their retelling skills in creative and challenging ways. Students in our lower grades also learn beginning coding skills through Code.org and Scratch Jr.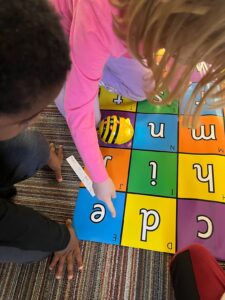 In the upper grades, students also have access to iPads as well as their own Chromebook. Computational thinking skills are continued at the upper levels through programs such as code.org, Scratch, and Microsoft MakeCode with Microbits. We also have robotics that utilize iPads or Chromebooks for coding such as Sphero and Dash. Students have used these robots to complete design challenges like "Saving Superman," where students had to design a chariot that could be pulled by our Sphero robots. They then had to code their Sphero chariot to go through a maze and retrieve a captured superhero! This was a team challenge, so in addition to utilizing computational thinking skills, students also had the opportunity to work on their collaboration and creativity skills.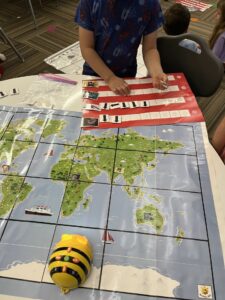 Collaboration between technology and the library has also resulted in great design thinking challenges for students. Students at all grade levels have completed design challenges where they are tasked with solving a problem. For example, students have had to construct a parachute that was capable of safely getting Jack down from a "beanstalk", and also design a 'creature' that would be able to survive in different regions of Georgia. Students also participated in a collaborative project with the farm; designing and 3D printed seed pots. Students used the platform Tinkercad for the design process and played a role in planting new seeds for our school farm.
Our approach to math instruction is based on research that describes the importance of teaching students to be mathematicians who are able to first make meaning of mathematical problems, think flexibly when solving problems and to do so efficiently. Our math program supports our constructivist approach here at ANCS. As a result, math instruction is student centered, differentiated, collaborative and engaging. Below are some of the mathematical instructional practices and experiences you will see taking place in our classrooms:
Teachers are using real world situations that help students feel personally connected and invested in their own math learning.
Teachers are linking past experiences to new concepts and providing ongoing, spaced review. This research based spiraled curriculum is intentional and contributes to vertical alignment K-5. Students are able to recall a concept they were exposed to in a previous lesson in order to help them make meaning of a new concept or skill being taught.
Students are often working with a partner and/or in a small-group. From math projects to differentiated instructional practices, students are met where they are and supported based on their individual needs.
There are hands-on activities and explorations. At the end of each unit there are a variety of projects that students engage in in order to provide additional practice using the different skills and concepts they have learned up until that point.
Students are building math fact power through daily practice, conceptual activities, and games.
Students are taught to use and share multiple strategies when solving a problem. This approach is crucial in ensuring that our students are flexible math thinkers who can use a strategy that is not only efficient, but one that works for them and their learning styles.
We encourage home-school partnerships and recognize that our approach to teaching math might be very different from the way that our parents and caregivers were taught, which makes this partnership an integral part in our students' math development. Each student has digital access to additional math resources that will support the learning happening in the classrooms.
MIDDLE CAMPUS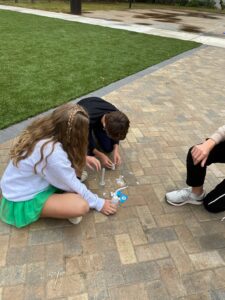 The Middle Campus library plays a crucial role in exposing students to STEM related learning through the use of 3D printing and Technology Club. Tech Club provides an opportunity for students to develop skills such as coding, animation, video, and 3D models using various programs. This hands-on experience with new technologies can help foster a love for STEM and inspire students to pursue careers in technology related fields. In addition, the library's resources and librarian supports students in their learning to guide them in exploring the limitless possibilities of technology. This can help students build critical thinking and problem solving skills and develop a better understanding of how technology can be used to improve the world around them.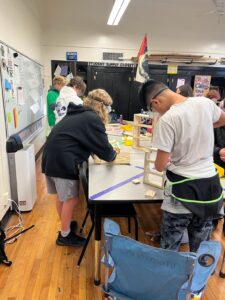 The design curriculum includes the introduction to many digital platforms that use a variety of technology. Some programs include Canva, used for graphic design, Google sites, for making websites and WeVideo for video editing. The context of the MYP design class uses the design cycle as a way to structure the process to solve problems through inquiry and analysis of design problems, development and creation of feasible solutions, testing and evaluation of students' models, prototypes, products or systems. This process is also the basis used for the engineering design.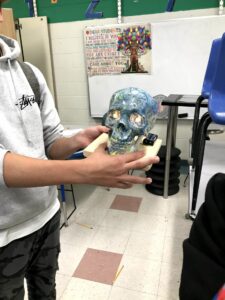 "STEM is about developing problem solving and critical thinking skills in our students from a learner centered environment" (mystemclassroom.com). Science in the Middle Years Programme (MYP) is necessarily student-centered and hands-on due to a focus on inquiry. In middle school, students are encouraged to make real world applications of science concepts they learn and to demonstrate their understanding of scientific concepts through interest-oriented products. Many times per year, from the science classrooms to the math classroom to the design classroom, our classrooms become makerspaces with students dreaming, building, testing and evaluating products and investigations. These types of tasks promote the Thinking Approaches to Learning (ATL), both creative and critical, and focus student attention on problem solving rather than rote memorization and recitation of facts. For example:
6th grade students conduct water quality investigations of local ponds as a part of their unit on the natural cycles and processes.
6th graders explore the ideas of viscosity and density in a unit about the Earth's Core by mixing liquids of different densities to determine the best combination to simulate a volcanic eruption.
7th graders gather and grow bacteria from various school surfaces to determine where the dirtiest areas are and in order to compel their peers to wash up and keep it clean as part of a unit on cells and the processes of living things.
7th graders conduct ethological investigations of endangered species in connection with ZooAtlanta to evaluate and compare captive habitats vs wild habitats, along with other conservation science initiatives to discern and analyze the implications of human impact on vulnerable species.
8th graders create containers that will keep hot water hot or cold water icy in conjunction with a unit on heat transformations.
8th graders design pop rockets to demonstrate Newton's Laws of Motion as well the concept of concentration in chemical reactions.
When exploring mathematics at the Middle Campus, we focus on hands-on experiences students have within the local and global context of our IB units.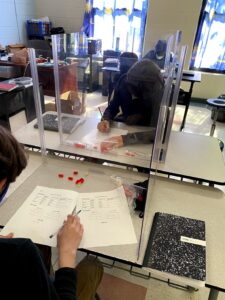 This year in 6th grade, students have learned about architecture by building safe spaces for a child their age who might be seeking refuge because of the current global crisis. Students investigated the background of this refugee and created a shelter using their knowledge of scale, proportions, and interior design. They also presented their work and spoke about how safe spaces provide healing in a time of trauma as fellow children are forced to leave their homes. Another way sixth graders construct knowledge is in the Geometry unit by building a complex 3d figure which has to be made up of multiple dimensions and most importantly – has to stand without being supported. They have to think critically and creatively about measurement and depth so they can show they understand surface area and volume of prisms. It's a challenging task because students are given limited materials and then it's game on!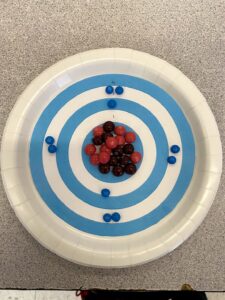 In 7th grade, students were able to have real life experiences with budgeting money. These students explored how to shop for their first apartment, how to budget for bills, understanding credit card debt and interest rates, and how to make decisions based on their own definitions of financial security. In this current unit, the 7th graders are learning the mechanics of a glitter explosion box to better understand surface area and volume. Students will participate in the creation of this viral gifting method to see the role of surface area and volume in its construction.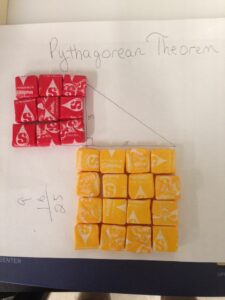 In 8th grade, the students worked with Pythagorean Theorem in the context of blueprints for a spiral staircase. Understanding patterns and scaling allowed them to notice changes that would need to be made in order for the stairs to be accessible in real life. In addition to this, 8th graders explored data collection and prediction making. There were several opportunities for this, including: commute to data- where the students timed themselves on a route to school on any given day to make predictions about attendance here at ANCS in 8th grade, shoelace lab- where students counted eyelets and measures shoelaces of their shoes in order to make generalizations about how shoes are designed, and their first summative that allowed them to take physical features about ANCS 8th graders & their parents/guardians, in order to draw conclusions about any of those relationships.
K-8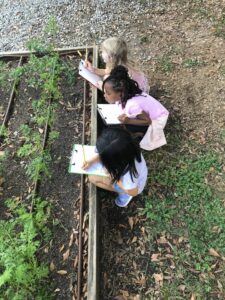 Beyond growing fresh produce for our scratch nutrition program, our school farm sites truly serve as outdoor learning labs for STEM study and exploration. At the elementary campus, students delve into their science standards in everything from living/nonliving things in Kindergarten and plant parts and needs in 1st grade, to the water cycle in 4th grade and microorganisms in 5th grade. They apply their growing math skills in a host of ways, including by counting by 2s, 3s and 5s for seed and planting spacing; by observing and measuring plant growth; by utilizing ratios for mixing soil and compost; and by graphing harvest numbers of various crops. We also break into small groups to rotate through our farm tasks, and students are responsible for deciding the best way to split up so that all the work gets done. At the middle campus, students work during Farm Club on Tuesday afternoons or with their advisory on Friday mornings to care for all the living things on the farm. While they are checking the usual tasks off the list, they are often called upon to examine and think creatively about many important questions: why does water often pool up near the chicken coop? How do we protect the living things in our care from pests and predators while farming in the city? What are the best practices for harvesting, cleaning, and storing our harvest? Whose voices are most often centered when it comes to access to land and food?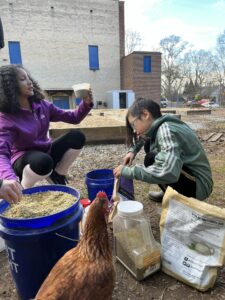 Additionally, students' efforts in supporting the health and growth of soil, plants, and animals on the farm across grade levels means they are naturally engaged in problem-solving and troubleshooting a range of challenges, including but not limited to pest damage, weather extremes, equipment breakdowns, and crop loss. Mother Nature is the oldest, most accomplished teacher around, and our students' experiences studying outside on the farm gives them ample opportunities to deepen their understanding of STEM and apply what they learn.
---
This piece was collaboratively written by the following female STEM educators at ANCS.