Successful Tree Planting at Middle Campus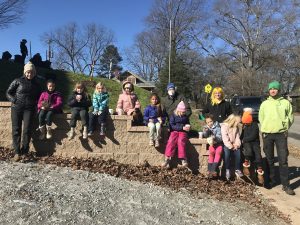 The frigid temperatures and blustery weather–and even a dusting of snow–was no match for the dedicated school family members and volunteers that came out to plant trees with Trees Atlanta this past Saturday at the ANCS Middle Campus.
First grade Girl Scouts, leaders, and parents from ANCS Troop 21674, as well as several MC families and regular Trees Atlanta volunteers, bundled up and gathered to plant early-spring blooming trees like American Linden and native fruiting trees like Serviceberry. These trees will provide welcome shade and food for local pollinator populations for decades to come.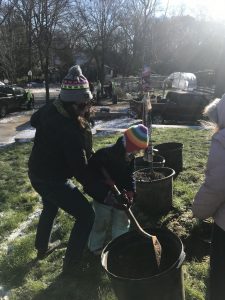 Thanks so much to Mr. Jake from Trees Atlanta, who led the effort with an ANCS alumna, Frankie, who is a current senior at Maynard Jackson High School. We appreciate MC Principal Mark Sanders for rolling up his sleeves to plant before he led a campus tour for prospective new school families, and all those first graders who persevered despite the bitter cold. The Ormewood Park community will benefit from these beautiful trees for years to come!