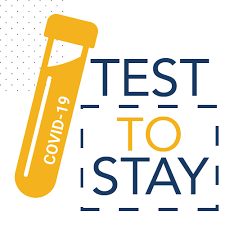 August 12, 2022 Update: Atlanta Public Schools is currently reviewing the newly released CDC guidance for K-12 schools. In addition, we are awaiting updated guidance from the GA Department of Public Health. When revising health protocols for our school district, we consider recommendations from CDC, GA DPH, and monitor the impact of COVID-19 on our school district.
APS will continue to make mitigation decisions that ensure the health and safety of our students and staff in our schools and buildings. This will always be a top priority.
We are mirroring the Atlanta Public Schools (APS) "Test to Stay" modified quarantine option, which can prevent students from missing school even after they are designated a "close contact" to someone who has tested positive at school. Per APS policy, your student may participate in "Test to Stay" if they meet all of the following criteria:
Their COVID-19 exposure occurred at school or a school-related activity
They have no new symptoms (e.g., fever, cough, difficulty breathing, vomiting, diarrhea)
They can be tested during their quarantine period at least twice either through ANCS surveillance testing or through a test monitored by a healthcare or lab professional (must provide a copy of the result to the school)
They can wear a well-fitting mask for the full 10 days after exposure (except during lunch or while drinking)
To support this option, we are providing in-school testing on Tuesday mornings for close contacts only. This is in addition to our regularly scheduled surveillance testing on Fridays. The nurse at each campus will determine who is eligible for testing on Tuesdays.
Contact the appropriate school nurse with questions:
Elementary campus – Leigh Hicks – lhicks@atlncs.org
Middle campus – Leslye Ryan – lryan@atlncs.org