Thank You for a Great Wonderball!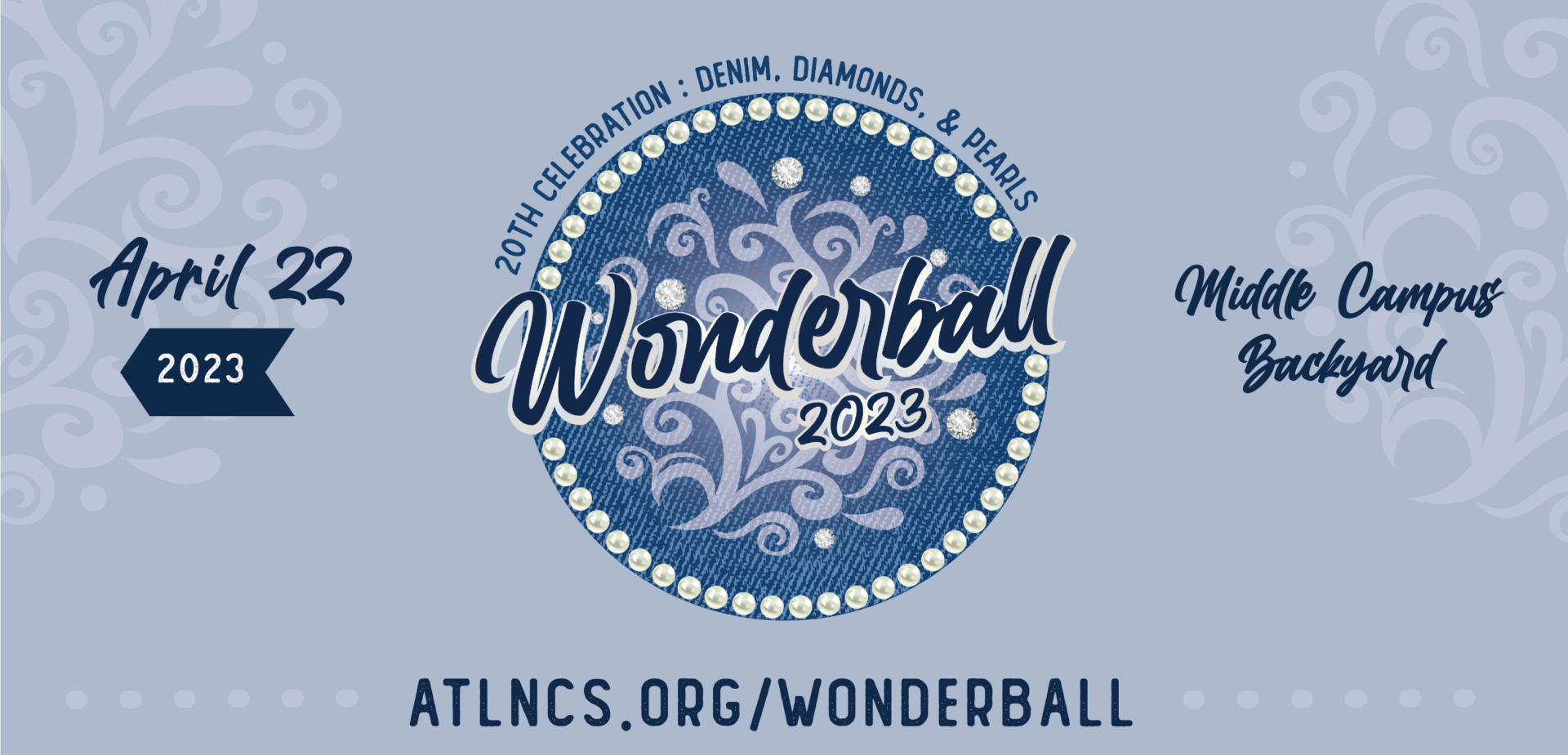 Thank you to everyone who attended our 20th Anniversary annual fundraiser, Wonderball!  Wonderball is the result of many hours of planning by volunteers and school staff members. Our precious students also pour in countless hours of art preparation, service, planning and coordinating. We would like to extend a HUGE thank you to all the people who worked on so many projects related to planning this event including:
The hard work of the small but mighty Wonderball Committee: Shannon Rutledge (Chair), Barrett Krise, Paige Teusink, Kasia Biernacki, Dana Silberman, and Lisa Waddell. Your partnership and hard work has not gone unappreciated or unnoticed.
The volunteers & staff members who helped with pre-planning, logistics, graphics, and execution: Susannah Darrow, Amber Suitt, Chris Collins, Kenzi Tainow, Sonny Poloche, Danny Duval, Brian Keida, Rebecca Fuller, Brittany Monnier, Jason Rutledge, Rhonda Collins, Wakita Jacobs, Ed Santos, and Chuck Meadows.
The faculty & staff who generous donated their time and resources to Teacher Time experiences for students: Adrian Douglas, Allyson Hage, Aly Denson, Antonia Morales, Brianna Holmes, Brittnay Sattler, Brittney Sanders, Camron Johnson, Casey Morris, Christian Wade, Christina Jones, Christine Kellum, Dakota Lobban, Dana Wright, David Bradley, DeIvory Armstead, Ed Santos, Emily Conners, Erin Collins, Heather Tomlinson, Humaira Afzal, Jacob Dewey, Jaquoia Rockmore, KaToya Sumner, Kristen Daniel, Kristen German, Lara Zelski, Lola Johnson, Mallory Godicheau, Margarita Cruz, Mark Sanders, Marquavious White, Molly Maland, Nancy Newton, Nathan Bubes, Nicole Agadoni, Nicole King, Roberto Rios, Sammy Struttmann, Taria Johnson, Toccara Davenport, and Toni Sulmers.
Chuck Meadows for his commitment to ensuring Wonderball was a successful event.
Paige Teusink for all of her coordination of so many moving pieces that are involved with an event like this. She arranged the raffle website, paid our vendors, set up Square for our cocktails, and soooo many other things! 
Ed Santos for all of his hard work on setting up the lights for the event and making sure we had everything at our fingertips for set up.
The faculty of the Middle Campus for their partnership and flexibility as we took over their space for the weekend.
And, of course, thank you to Carol Keller and Nathan Bubes for working with our students to create AMAZING artwork.
To our in-kind supporters & raffle donors: Mercer Street Meals, Park Bar, My Friends Bottle Shop, Color Wheel Studio, Andrew & Colleen Rickel, Katie & Ben Sutton, Lenaisha Irizarry, Erin Drakeford, Jenna Civitello, Barrett Krise, Marsha Duval, and Ashlyn & John Kress. These businesses and individuals provided free or discounted goods and services for Wonderball. These donations are a huge help to the bottom line of the event – allowing us to put more of the money raised towards the school.
Event partners: Thank you to DJ Intellect for providing us with some fun dance music throughout the evening, With a Twist for keeping the drinks flowing, and Adam Davila of Davila Photography for capturing the special moments of the night.
We'd especially like to recognize and thank the following businesses for their generous contribution to the 2022-2023 sponsorship program. We encourage you to support the businesses who support us!

If you had a good time and planned on spending more, but didn't get a chance to do so, please consider making a donation directly to the Gather & Grow Fund. There are many programs and initiatives that rely on support from Gather & Grow such as:
Financial assistance for families
Major projects and programs, such as the Backyard and the Farm
School supplies for all students
Class socials
Faculty & staff appreciation
Farm-to-table culinary program
Technology enhancements
Related arts and athletics programming
Professional growth and development opportunities for teachers & staff 
THANK YOU! Without the collective effort of our school family, this event would not have been possible or nearly as successful!