Thank You for a Great Wonderball!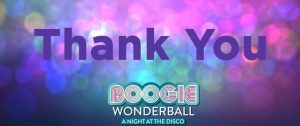 Saturday Night Fever!
What a great time we all had on Saturday night, and we have each of you to thank for buying and bidding and boogie-ing! We'd like to specifically thank the many people who had a hand in pulling off this wonderful evening. This is a super long list, but these families donated their time, talent, and treasure, so take a minute to say thank you!
First, our amazing, dedicated, tireless event chairs: Jennifer Singh, Christine Dyer, and Heather Corrigan. They move mountains, sacrifice nights & weekends, and give 100% to this event and we owe them all our thanks. Please thank them if you see them. They are still wrapping up details, returning items, and sorting final details. And thanks to Michael Miller, JD Dyer, and Jim Corrigan for holding down the fort at home while we monopolized their spouse's time.
Next up: our subcommittee chairs. These folks stepped up and led a team or took ownership of a major area of the event: Audrey Morrison (professional art), Kenzi Tainow (graphics), Carrie Wright (décor), Amanda Evans (raffle), Ivy Newman (raffle), Rachael Smith (Teacher Time & MC art), Penny Bean (sponsor reception & teacher's lounge), Gracie Gummere (logos and graphics).
And without these lovely ladies, we would not have had so many amazing auction items to sell or the platform on which to do so. Led by Jennifer Singh, the silent auction team truly knocked it out of the park: Holly Grigg-Michael, Erin Ashley, Angelique Dumas, and Ellie Black (who was a life-saver with data entry help!)
Thank you to our grade-level raffle basket reps (led by Amanda Evans & Ivy Newman) who solicited, shopped and set-up those amazing raffle prizes: Kindergarten: Christen Lennon, Ashley Matta, and Jen Skidmore; 1st Grade: Kristen Freeman & Jamie Owens; 2nd Grade: Ellen Cobb & Dara Dearborn; 3rd Grade: Ivy Newman, Amanda Evans, and Sandi Stallings; 4th Grade: Kathleen Sickeler & Alyssa Kopp; 5th Grade: Joanna Mevers (who also jumped in to help ALL day with load-in and set-up) & Megan Gatewood; MC: Alayna Bash & Tonya Gibson. GREAT job!
Also, thanks to the volunteers who gave up part of their Saturday to help execute an event with so many moving parts. From load-in and art hanging to registration and live auction spotting, these folks were a vital part of the event's success:
Adrienne Tankersley, Angela Mora, Chris Harbaugh (with the patience to trim SO many signs), Christen Lennon, Christina Sanchez, Deann and David Sinrich, Elizabeth Watkins, Heather Smith, Sarah Kessenich, Julie Miller, Rey Colorado, Jim Corrigan, Matt Galer, Sara Lisle, and Brooke Midgette (who was not on the committee, but was there with a smile and an offer of help everywhere we turned!)
And, of course, the teachers, faculty, and staff who donate to our Teacher Time auction – we are so very thankful! In addition, Kari Lovell and Martha Kessenich for being our bankers; Carol Keller and Nathan Bubes for working with our students to create such AMAZING artwork; Santina Cambore and Erin Collins for keeping the kids safe and sound; and to Jim Kessenich and Dave Keevers for SO. MUCH. schlepping.
Special thanks to our In-Kind Supporters
These businesses and individuals provided free or reduced-priced goods and services for the Wonderball. These donations are a huge help to the bottom line on the event – allowing us to put more of the money raised towards the school.
Endive Fine Catering – we cannot thank them (along with ANCS parents Drew and Charuki Ihrig) enough. Their donation of event catering is significant and greatly appreciated. If you haven't had dinner in the private room at Endive Publik House, you are truly missing out!
Tulip Blooming Creations – for the elegant and excellent floral to make the venue so beautiful, all from ANCS parents Eva Phillips and Heather Jones
Active Production and Design – because you can't have a disco without disco balls! And Peachtree Tents & Events for the lovely linens. With a shout out to ANCS family John (Active Production and Design) and Mittie (Peachtree Tents & Events) Fox for their support.
For parents Jon & Elise Vandermeer (Kiosk & Display) for donating screens to help us promote our live auction.
And for the booze: ANCS parent John Black from Three Taverns Craft Brewery; ANCS parent Ryan Mullins from Winebow for the red & white wine (plus some amazing silent auction items!); and Neil Cohen from Tip Top Cocktails.
Special thanks to our 2019-2020 ANCS Annual Sponsors
We are grateful for the annual support of our sponsors: Helen Kynes, Realtor; Sheldon Sinrich Strategies; Williams Teusink; Athletes' Potential; The Beacon Atlanta; CrossFit Downtown Atlanta; Paisley Law LLC; and PDS Solutions. As ANCS sponsors, they provide year-round financial support. Be sure to let them know how much we appreciate them investing in our school by utilizing their services. Almost a quarter of our income for Wonderball comes from these donors.
And thank YOU – for being a part of the ANCS family.
Please forgive us if we inadvertently left someone off this list – it truly takes a village and we appreciate ALL of our volunteers!