Thank You for Donating on GivingTuesday!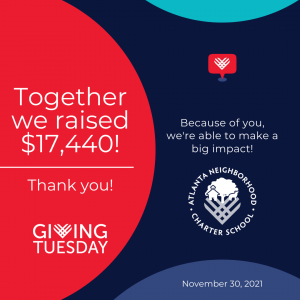 Thank you so much to our ANCS family for helping us meet our GivingTuesday goal! Donations made through Facebook and the ANCS website totaled over $17,000!
Your contributions enable us to respond to the emerging and immediate needs of our school family. The Gather & Grow annual campaign allows us to place two teachers in each classroom, provide a constructivist, inquiry-based learning experience for our students, and provide a true farm-to-table culinary program even as we make additional investments to protect the health of our students and teachers during an ongoing pandemic.