Upcoming Volunteer Opportunities on our School Farm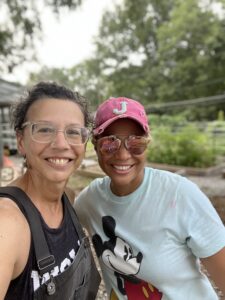 Calling all adult garden helpers! We had several great interest meetings about working together as a school family at our farm sites, and I'm happy to share that there are quite a few opportunities coming your way. First up, we'll be working together one Saturday a month at one of our farm sites on a rotating basis. Our first Saturday farm workday will take place this Saturday, Sept. 9, from 9am-11am at the Middle Campus farm. We have all the tools and materials you'll need, including garden gloves, sunscreen, and bug spray, but come prepared with a full water bottle and clothing/shoes for outdoor work. If you are planning to volunteer as a family, please know that while we will be having fun, this is a time for checking some tasks off our farm-care list!
Next up is our Tuesday afternoon/evening farm time. We'll be rotating weekly Tuesday workdays at each farm site, and our first shift is Tuesday, Sept. 12, from 4pm until dusk, at the Elementary Campus farm. Feel free to drop in anytime and stay as long as you'd like. Again, we have everything you need for working safely on the farm.
Finally, we are creating a Slack group for farm volunteers, so if you would like to be included in that communication for up-to-the-minute workday news (pertinent weather information, cancellations or modifications, etc.), email Nichole Lupo at nlupo@atlncs.org with the subject line Farm Volunteer. If not, you'll still be able to find workday times and locations on our school calendar here. We're looking forward to getting to know each other better on the farm!