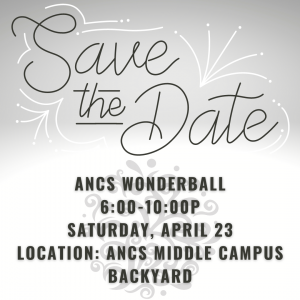 Save the date for a reimagined, outdoor Wonderball on Saturday, April 23rd from 6-10pm at the ANCS Middle Campus Backyard! 
What is Wonderball?
Wonderball is an ANCS tradition that dates back to 2002, the year the school opened. It is the largest fundraiser for the school and falls under the umbrella of the Fund Development Committee of the Governing Board. This year's Wonderball theme is Family Reunion as we are looking forward to bringing the school family back together after several challenging years. Wonderball welcomes the kid in all of us, but the event is adults only.
Why does ANCS have this event?
Let's go back in time. Starting a school from scratch was tough and money was needed. Creative parents and community members demonstrated true grit in figuring out ways to fund the school, hence, Wonderball! There were many other lean times as well (remember that recession?). Once the tradition was started it continually evolved and is now a part of the school's fabric. Wonderball serves as an opportunity to build community while at the same time generate funds that the school has come to rely upon as part of the budget. 
How can you get involved?
Other than attending the event on April 23, 2022, we need help from the school community to make this event a success. We are currently looking for some folks to help coordinate raffle baskets. If you are interested, please contact 2022 Wonderball Chair Michele Kresge at michele.kresge@gmail.com.