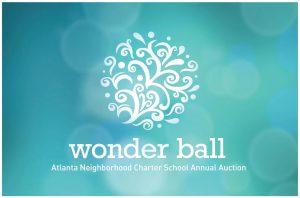 Save the date for a reimagined, outdoor Wonderball on Saturday, April 23rd. If you are interested in helping out with Wonderball, please reach out to Michele Kresge. 
What is Wonderball?
Wonderball is an ANCS tradition that dates back to 2002, the year the school opened. It is the largest fundraiser for ANCS and is an event that falls under the umbrella of the Fund Development Committee of the ANCS board. "Wonderball" is the name donned on the ANCS auction/raffle and party several years. The event is now always called "Wonderball" and each year there is a new theme. You may recall last year we had the "No Ball Wonderball" which was essentially a week of online fundraising and virtual trivia due to the in-person event being canceled. Stay tuned for details on this year's theme.
Why does ANCS have this event?
Let's go back in time. Starting a school from scratch was tough and money was needed. Creative parents and community members demonstrated true grit in figuring out ways to fund the school, hence, Wonderball! There were many other lean times as well (remember that recession?). Once the tradition was started it continually evolved and is now a part of the ANCS fabric. Wonderball serves as an opportunity to build community while at the same time generate funds that the school has come to rely upon as part of the budget. 
This event is separate from the Gather & Grow Annual Fund, although funds from both efforts are allocated to the ANCS operating budget (the school's primary budget) and help supplement the state and local money we receive. Historically, the money raised has been earmarked to keep two teachers in each classroom, to maintain a low student-teacher ratio, and to support a high-caliber special needs curriculum that reflects the values of ANCS. Our Farm-to-School and nutrition programs, along with all of our related arts (art, music, PE) benefit from these funds as well.