School Farm Update: Summer Recap and Welcome Back!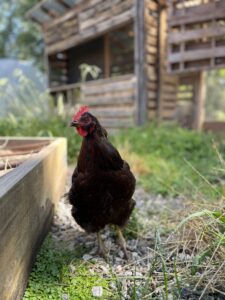 Greetings, school family! Even though we've only been back together for one full day, it's SO GREAT to have our beloved students back in the buildings at each campus and out on the farm. In fact, we're looking forward to many opportunities for students and families alike to join in the work and fun on the farm sites. First up, though, let's catch up from the summer! In June, we welcomed our new school farmer, Zoe Spencer (she/they) on board. She spent the month working closely with last year's school farmer, Jillian Crocker, before they moved to middle Georgia to farm with the fine folks at Rag and Frass Farm. (An aside: keep your eyes open for Farmer J selling veggies, fruits, and flowers at the Rag and Frass booth at the Grant Park Farmers Market on Sundays 9am-1pm at the Beacon, and feel free to say hello. Once a wolf, always a wolf!) Zoe attended ANCS K-8 and has many years of experience working in food, farming, and restaurants, and she's already settling right in and growing delicious things. Please take a moment to introduce yourselves if you see her working out on the farm! Just like Nichole Lupo, School Farm Specialist, she'll be working at both campuses in support of the food production and chicken care.
Speaking of farm work, we had many fun, productive volunteer days on the farm sites at each campus this summer. If you came out to share your time, sweat and work, and snack on freshly-harvested produce, thanks a million! It was such a pleasure getting to know each other better while we checked things off the seemingly-never-ending list of tasks. If you couldn't get by this summer but want to learn more about how to get involved on the farm, please fill out this simple form and plan to join us for a brief, informal meeting during the last week of August.
You may be wondering where all that delicious produce went during the summer months when students are away from school, and we're happy to share that we have several outlets for that delicious, nutritious food. First, if you volunteer your time, you get to take home some farm goodies! But more importantly, we built a partnership with the wonderful humans over at Urban Recipe, and they feed hundreds of people all over the city every day of the week. Their staff shared that the elders they deliver to in South Atlanta on Wednesdays and Thursdays were particularly excited about our cooking greens, squash, and cherry tomatoes. We were able to connect with them through our Elementary Campus neighbor, Rev. Chad Hale, who founded the organization in 1990 as the Georgia Avenue Community Ministry (GACM) through the Georgia Avenue Church. Chad walks past the farm daily on his way to the church, and during our many conversations with him, we learned about this important group of food justice workers. Our work on the farm is so important for growing ingredients for our school meals, of course, but it is also a vital part of building meaningful relationships with our neighbors and our community. We're hoping to continue–and possibly expand–this partnership as our harvests increase.
We are so grateful for you, our school family, and we're really excited for the opportunities that await us this school year to connect, learn, and grow. Please reach out with any questions, concerns, or suggestions to me at nlupo@atlncs.org.