We prepare the meals we serve to our school from scratch whenever possible, and we source many of our ingredients from local sources. We seek to provide eclectic menus with some familiar favorites and others inspired by the season or other cultures and cuisines.
CLICK HERE TO PAY FOR SCHOOL MEALS       CLICK HERE TO PRE-ORDER SCHOOL LUNCH
We ask that parents complete a pre-order form weekly for school lunch. The pre-order form will be included in the Courier each week on Wednesday and will close on Friday at noon for the following week.
Monthly Lunch Menu
click menu image below for printable version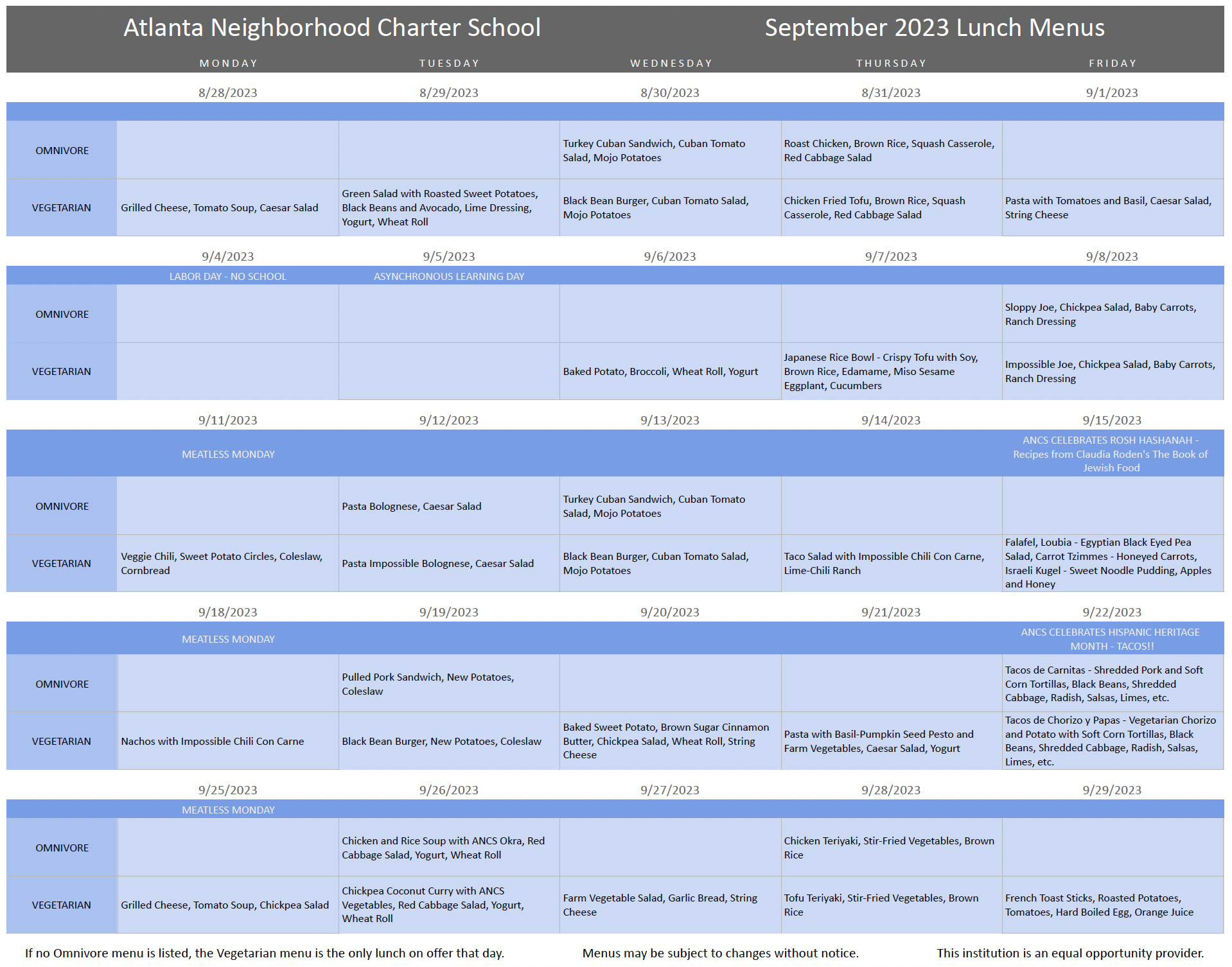 This institution is an equal opportunity provider.
Pricing, Details, and Ordering
Meal Pricing, Free and Reduced Applications, and Payments
Per federal guidelines, we are accepting applications for free or reduced price meals throughout the school year.  The quickest and easiest method to apply for these benefits is via the Atlanta Public Schools online free and reduced meal application for 2023-2024. You will select Atlanta Public Schools as the district, and then the appropriate school for each student later on in the process. A paper application is also available if you prefer this option. Please reach out to our nutrition director, David Bradley, and we will provide one for you. All free and reduced application information is completely confidential per federal guidelines.
We are required to obtain a new application for free or reduced meals each school year, and benefits begin when we receive a completed, eligible application. If your family qualified for free or reduced price meals for the 2022-2023 school year, these benefits will apply for the first 30 days of school or until a new application is received.
Additional questions about free and reduced meal policies may be addressed in this Frequently Asked Questions (FAQ) document.
The cost for meals at ANCS for this year are as follows:

Breakfast: $2.50
Lunch: $3.75

In addition, cartons of milk are available for purchase à la carte to supplement a lunch brought from home. We also offer lactose-free milk and chocolate soymilk, subject to availability, for students who may have difficulty drinking regular cow's milk. These three à la carte items are not subject to free and reduced pricing. Each is an 8 oz (1 cup) carton. The cost is as follows:

Milk: $0.50
Lactose-Free Milk: $1.25
Soymilk: $1.25

Breakfast and Lunch come with a milk if the student desires one. We do not charge a supplement for lactose-free milk or soymilk if the full meal is taken. We do ask that a parent or guardian submit a written request via

 

this form

 

for these items.
We ask that students not bring cash with them through the lunch line each day. Instead, you may deposit funds on your student's meal account, and the cost of their meals each day will be deducted from this balance. You may add funds to your child's account in one of three ways:

Online payment – Please visit LINQ Connect (formerly called TITAN). Here you may add funds to your student's meal account by credit or debit card, move funds between siblings, see their transaction history, set up low balance reminders, and create auto drafts from your bank account. If you haven't before visited this site, here's their FAQ on how to set it all up. If you set up a TITAN account for your family last year, this is still active and you do not need to do anything else to be set up for this school year.
Check – You may make checks payable to Atlanta Neighborhood Charter School and be sure to indicate in the memo line BOTH your student's name and that the funds are for meals. These can be left at the front desk at either campus or sent in with your child.
Cash – We will accept cash. Please enclose the funds in an envelope and clearly indicate BOTH your student's name and that the funds are for their meal account.
Menus, Meal Times, and Pre-Ordering for your Student
The lunch menu is posted monthly on the ANCS Nutrition website. All meals are compliant with the guidelines established by the National School Lunch Program (NSLP).
All lunches are served with fresh fruit and milk, though this may not be listed on each day's menu.
Vegetarian lunch menus are offered every school day. If meat is served, it will be part of the Omnivore menu. If no Omnivore menu is listed, the Vegetarian meal is the only one we will be offering that day.
At breakfast, students are offered a choice of many items, including cereal, homemade granola, fresh fruit, juice, milk, hard boiled eggs, breakfast bars, and sometimes there will be hot items, too. These may include oatmeal, grits, muffins, and more. Under federal guidelines, students must have at least three items, one of which must be fruit or juice.  
Breakfast is served in the cafeteria before school starts at each campus. This is from 7:30 to 7:50 AM at the Elementary Campus (EC) and from 8:00 to 8:20 AM at the Middle Campus (MC). Students should come straight to the cafeteria after they have checked in with their classroom at the EC or at their grade level's designated entrance at the MC.  A limited "grab and go" breakfast is available to students arriving to the cafeteria later than these times who need breakfast.
We also offer lactose-free milk and chocolate soymilk, subject to availability, for students who may have difficulty drinking regular cow's milk. Please indicate this on

 

this form, and on the weekly pre-order, if you'd like one of these options for your student.
Our program uses no nuts or nut products in anything we prepare or serve. We make an effort to accommodate other dietary needs and restrictions that we are aware of. Please do include this information in your student's meal pre-order.  If you have questions or concerns, please contact our nutrition director, David Bradley.
We ask that parents complete a pre-order form weekly for school lunch. The pre-order form will be included in the Courier each week on Wednesday and will close on Friday at noon for the following week. If you miss the preorder, we will still feed your child.  Each day, their teachers will check with your students and add their name to our list if they need a meal.
Sustainability in our Kitchen and Cafeteria
We strive to employ sustainable, responsible practices in all aspects of our nutrition program, and to share this ethos with our students, faculty and staff.  This takes many forms, including:
Seasonal Menus
We feature fresh produce in season. This means lots of fresh tomatoes, watermelons, and other wonderful summer produce when we start school; Georgia apples, pears, hard squashes and more in the fall and early winter; a wider variety of citrus fruits in the winter and spring and a greater reliance on storage crops like local sweet potatoes until sugar snap peas and tender greens make it onto the menu as we finish out the school year.
Eating Less Meat
We have had Meatless Monday in place for the past 8 years and usually 1 or 2 other lunch menus in a given week are fully vegetarian, too. We make frequent use of plant-based meat analogs in recipes that we originally wrote for ground beef or turkey, and haven't served any beef in over 3 years.
Growing Our Own
We have a substantial school farm that produces wonderful ingredients for our kitchen.  Students are involved from seed to harvest, learning about their role in our ecosystems, the life cycles of plants, pollinators and pests, and how much better really fresh food tastes.
Buying Local
We have long purchased from local producers beyond our own school farm to strengthen the local food community and support GA farmers that are working sustainably and to reduce the carbon footprint of what we are serving.
Reducing Food Waste
We are always looking for creative ways to reduce or eliminate food waste, like incorporating unserved baked sweet potatoes in our own Sweet Potato Pie granola, or partnering with a local company to turn our spent fryer oil into renewable fuels. Completing a pre-order each week is one small way you can contribute, too. Knowing just how much we need to make before we order or prep something helps us to reduce the amount of waste we generate.
Composting
We compost organic waste from our kitchen and cafeterias with CompostNow.  Students are involved with making choices around food waste and packaging issues each and every school day. We are also an official CompostNow Garden Partner, so if your family is a member, too, and wish to donate some of your compost to the school, please do so!
Packaging
We use either compostable service ware and utensils or reusable/washable trays and silver for meal service. We have eliminated single-use plastics (no straws, no disposable cups, no plastic spoons/knives/forks) from our program.
Picky eaters are always an issue both at school and at home. Our hope is that repetition will help. A skeptical child might not try something the first time around, but if they see other students enjoying it, maybe next time they will try it.
Wellness Policy
Atlanta Neighborhood Charter School (ANCS) desires to provide children the needed access to healthful foods and opportunities to be physically active in order to grow, learn, and thrive. ANCS believes that good health fosters student attendance, a student's ability to learn effectively and to achieve high standards in school. ANCS is committed to providing school environments that promote and protect children's health, well-being, and ability to learn by supporting healthy eating and physical activity.
In accordance with federal civil rights law and U.S. Department of Agriculture (USDA) civil rights regulations and policies, this institution is prohibited from discriminating on the basis of race, color, national origin, sex (including gender identity and sexual orientation), disability, age, or reprisal or retaliation for prior civil rights activity.
Program information may be made available in languages other than English. Persons with disabilities who require alternative means of communication to obtain program information (e.g., Braille, large print, audiotape, American Sign Language), should contact the responsible state or local agency that administers the program or USDA's TARGET Center at (202) 720-2600 (voice and TTY) or contact USDA through the Federal Relay Service at (800) 877-8339.
This institution is an equal opportunity provider.
To file a program discrimination complaint, a Complainant should complete a Form AD- 3027, USDA Program Discrimination Complaint Form which can be obtained online here, from any USDA office, by calling (866) 632-9992, or by writing a letter addressed to USDA. The letter must contain the complainant's name, address, telephone number, and a written description of the alleged discriminatory action in sufficient detail to inform the Assistant Secretary for Civil Rights (ASCR) about the nature and date of an alleged civil rights violation. The completed AD-3027 form or letter must be submitted to USDA by:
mail: U.S. Department of Agriculture, Office of the Assistant Secretary for Civil Rights, 1400 Independence Avenue, SW Washington, D.C. 20250-9410; or
fax: (833) 256-1665 or (202) 690-7442; or
email: program.intake@usda.gov