We prepare the meals we serve to our school from scratch whenever possible, and we source many of our ingredients from local sources. We seek to provide eclectic menus with some familiar favorites and others inspired by the season or other cultures and cuisines.
Monthly Lunch Menu
click menu image below for printable version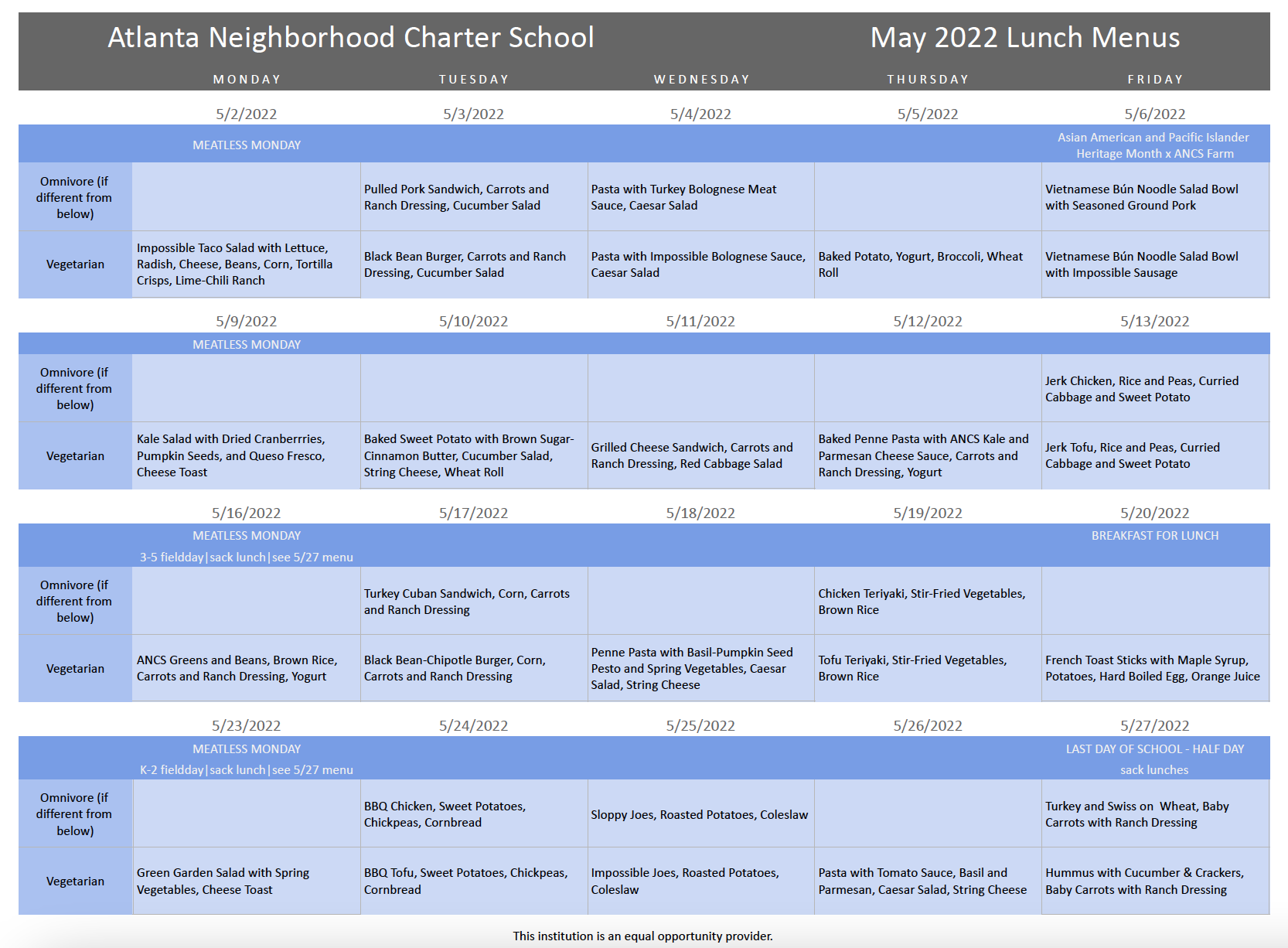 This institution is an equal opportunity provider.
Pricing, Details, and Ordering
All meals for students are FREE for this school year, regardless of household income level, size, or socioeconomic status.
Breakfast

 

will be served in the cafeteria before school starts at each campus. This is from 7:30 to 7:50 AM at the Elementary Campus and from 8:00 to 8:20 AM at the Middle Campus. Students will have a choice of many items, including cereal, homemade granola, fresh fruit, juice, milk, hard boiled eggs, breakfast bars, and sometimes there will be hot items, too. These may include oatmeal, grits, muffins, and more. Under federal guidelines, students must have at least three items, one of which must be fruit or juice.  
Lunch

 

will be served in compostable containers and will be consumed in the classroom or on campus outdoors. It will be up to classroom teachers to decide where their class will consume lunch on any given day.
The lunch menu is posted monthly on the ANCS Nutrition website.

All lunches come with fresh fruit and milk (1% non-flavored).
We also offer nonfat Lactaid milk and Organic Chocolate Soymilk for students who may not drink milk. Please indicate this on the pre-order if you'd like one of these options for your student, or if you would like no milk served for your student.
We ask that parents complete a pre-order form weekly for school lunch.

The pre-order form will be included in the Courier each week on Wednesday, and will close on Thursday at noon for the following week. If you miss the preorder, we will still feed your child.

 

Each day, their teachers will check with your students and add their name to our list if they need a meal.
Pre-ordering helps us in many ways:
Our kitchen is at the Middle Campus, so knowing how much food we'll need to prepare overall, and how much to take to the Elementary Campus, helps us in preparation and ordering.
We have many students with special dietary needs, restrictions, and/or allergies. Having a student's specific needs recorded with their order helps keep our students healthy and safe.
Students have a limited amount of time to eat their meals, and distributing all of a grade level's meals at one time (rather than adding on orders here and there) gives all of our students more time to enjoy their meals.
Completing a pre-order for your student saves time for their classroom teachers each day that they can use for instruction and connection.
An accurate pre-order greatly helps our program file for federal reimbursement, which is what allows both the meals to be free for our families and for us to provide the level of quality we strive for. 
Picky eaters are always an issue both at school and at home. Our hope is that repetition will help. A skeptical child might not try something the first time around, but if they see other students enjoying it, maybe next time they will try it.
Wellness Policy
Atlanta Neighborhood Charter School (ANCS) desires to provide children the needed access to healthful foods and opportunities to be physically active in order to grow, learn, and thrive. ANCS believes that good health fosters student attendance, a student's ability to learn effectively and to achieve high standards in school. ANCS is committed to providing school environments that promote and protect children's health, well-being, and ability to learn by supporting healthy eating and physical activity.