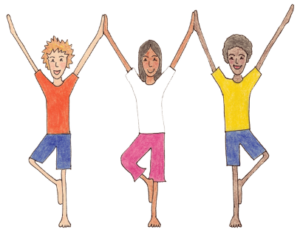 Kids yoga group will be meeting every Wednesday after school from 1:30 to 4:30. The first class will meet on January 4, 2023. We will meet after school and walk to Tend Yoga and Wellness studio located 3 blocks from ANCS. After a brisk walk we will begin class with a mindful intention that empowers students and fosters positive thinking. We will then practice challenging yoga postures that strengthen and balance the body and mind. Throughout the lesson, students learn and practice breathing techniques to relax and manage their stress. We will listen to music, play yoga games and create mindful art to encourage self expression and creativity.
Most of all…we will have FUN!!!
Please email or call with any questions and to reserve a spot.
Regina Van Leuvan
rvanleuvan@hotmail.com
678-640-0607
---
ABOUT REGINA LEUVAN
Hello! My name is Regina Van Leuvan. I have been practicing yoga for years and it has brought me a deep connection with myself, others and my community. Before becoming a yoga instructor I was an educator in the Atlanta public school system for 14 years. In my classroom I practiced yoga with my students on a daily basis. I saw how yoga helped each student relax, focus and become more "in tune" with their body and mind. I found that yoga and mindfulness can help children learn techniques to grow self awareness and inner fulfillment so they can navigate life's challenges with a little more ease. I then decided to cultivate my experience further in kids yoga by becoming a certified kids yoga teacher through the Grounded Kids Yoga Program here in Atlanta, Georgia. I have also completed my RYT-200 yoga teacher certification. In the past several years I have been active in teaching kids yoga in diverse and enriching settings throughout the north Georgia area. I am excited to provide meaningful experiences that foster self expression, self discipline, positive thinking and mindfulness.