Winter Wonderland Details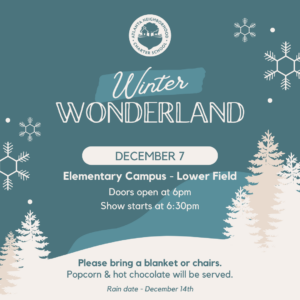 Winter Wonderland is our new version of the ANCS Annual Concert Winterfest. We have moved the concert outside so that there is room for the whole school family to perform on the same night.
Winter Wonderland will take place Wednesday, December 7, with a rain-date of December 14th. Hot chocolate and popcorn will be served from 6:00-6:30 and the show will be from 6:30-7:30.  Please bring a blanket or camping chair to sit on. The entrance to this event is on Oakland Ave. Each grade will perform and then we will have a short sing-along.  
We need several volunteers to help with Winter Wonderland on December 7, 2022.  Please message Rebecca Fuller at RelatedArtsancs@gmail.com to lend your support! 
It will be a special night. We look forward to being together!