Run With the Wolves Updates
Run With the Wolves Training Days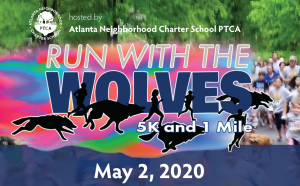 To help you get ready for this year's Run with the Wolves, the race committee will be hosting training runs for students and adults twice a week starting at the end of February and continuing up through the week of the race. There will be more details in the Courier later in February so be on the lookout for more information about days and times. All levels of experience are welcome for the training runs!
Wolf Tails
All adults* (18+) registered for the 1 mile and 5K have the option of purchasing a faux wolf tail (while supplies last) to hide before each race and reveal during the race. Kids who catch the wolf tail can turn it in at the finish line for a prize. The wolf tails are great for motivating a runner who needs a little push or just for fun to see how long you can outrun the kids. Purchase yours online for $5.
*Wolf tails are complimentary for ANCS teachers & staff running in the race.