Spring on the School Farm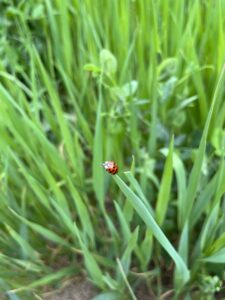 Happy Spring, school farmily! So much has changed at our farm sites in the last few months, and I hope you've gotten the opportunity to witness the growth, whether visiting the spaces, or simply observing during drop-offs and neighborhood walks. The deep freeze in winter really threw us for a loop (read: we lost everything but the garlic and our sweet flock of hens), so the sea of green on the farm is especially exciting.
First and foremost, we must celebrate the addition of beautiful and functional farm infrastructure. It's not usually what makes the headlines, but it helps make our work of growing food with students safe, organized, and sustainable. We now have CoolBot cold storage at both campus farm sites, and we're thrilled to be filling them with spring produce. They will really come in handy this summer when keeping harvests cool is particularly important. The elementary campus concluded a rebuild of the greenhouse in early March, complete with barn storage and an extended roof for our compost pile. Students have sown tray after tray of seeds for the greenhouse, from spring crops and herbs to summer fruits and flowers. They've also tended and transplanted many of these young plants, so they're especially invested in the outcomes.
We're reveling in the steady harvests of green garlic, salad greens, and Brassicas of all kinds. The hens are laying again and the strawberries are prolific, but they never make it to the cafeteria; those are best enjoyed standing in the sun on the farm. We've begun to transplant some summer fruits, including squash, cucumbers, tomatoes, and we're excited to start sowing beans, okra, and melons.
Finally, we've enjoyed some really wonderful time with school family on the farm this spring. PTCA's DEAT (Diversity, Equity, and Action Team) Celebrates Food, Farm and Culture on April 18 brought us together to listen, learn, and eat on the farm with urban farming innovator K. Rashid Nuri. Family Reading Night was back at the EC for the first time in too long, and many families visited the farm for a story walk, a read aloud, and refreshments. And we got to welcome our new families to the farm at the Kindergarten Round Up last weekend; it's always special to share the spaces with folks for the first time. To gather together in community is a big part of the magic out there, so if you're interested in volunteering some time over the summer, email Nichole Lupo at nlupo@atlncs.org with subject Summer Farm Time. I'll follow up with details, possible schedules, etc. Thanks so much!
---
Nichole Lupo
Nichole joined the ANCS faculty in the Fall of 2021 as the School Farm Specialist. Prior to coming to ANCS she worked at the Wylde Center as the Farm to School Manager, where she taught students in City Schools of Decatur in their garden classrooms, implemented two district-wide taste tests each year, and managed high school summer interns at farms, restaurants, and farmers markets around Decatur and Atlanta.