An Interview with 8th Grader: Adrian Restrepo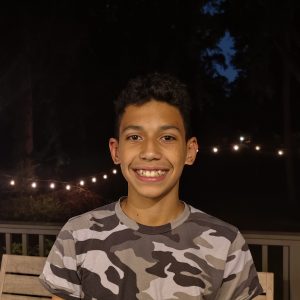 I have been part of the ANCS family since kindergarten. The faculty and staff are so nice, and I consider them as friends along with my peers. They are always going the extra mile and willing to point you in the right direction. I will miss advisory in the mornings and the encouragement that Ms. McFeeley gave this year the most. In the same way that I warm up before a soccer game, advisory prepared me for the school day. Another good memory from advisory is being called out in front of the class by Mr. Bubes. He said that I was on top of my work in context to my portfolio. It may seem insignificant, but it confirmed that I was one of the leaders and examples in my advisory.
Mathematics is by far my favorite subject, it is like the "who done it" of numbers, and I enjoy solving equations. I plan to pursue a more mathematical agenda in high school and know that taking Algebra I has prepared me for Algebra II and Geometry next school year. News & Current Events was also one of my favorite subjects. It was a space to share my ideas and be knowledgeable about the world around me. 
Outside of academics, I spend a lot of time playing sports. I won medals for participating in Run with the Wolves 5k three years in a row. I was also involved in soccer at ANCS and am currently enrolled in Atlanta United Regional's development program. My other hobbies include building legos without instruction, playing the piano, and drawing. In fact, one of my art pieces was selected for the Pin-up show at Kennesaw State 'University this year.
I'm looking forward to the ANCS exhibition. Although the audience will be much smaller, it is a big event that students prepare for all year. It is the opportunity to connect academics to real life outside of school. The exhibition has strengthened my public speaking and critical thinking skills. I know that these skills will transfer into my projects in high school.
I chose Maynard Jackson High School because I will have the chance to get my IB (International Baccalaureate) diploma. I know the curriculum will be rigorous, but it will prepare me for a quality college education. After college, I want to pursue a career in electrical engineering like my Dad, become an ophthalmologist, or have a career in design. Whatever I decide to do, I am sure that there will be a component of math!