An Interview with 8th Grader: Akeelah Jones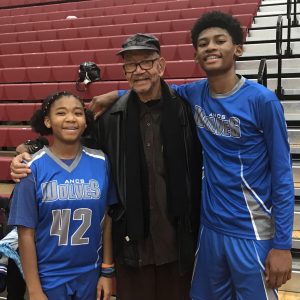 I transferred to ANCS at the start of seventh grade. I was afraid that people wouldn't be friendly, but I immediately felt welcomed on my first day! Everyone was so jolly and approached me to introduce themselves.
Outside of the fantastic staff and students, I enjoy the way that ANCS teaches. They use contrasting techniques and are creative in the way they instruct and inform us. My favorite subject is visual arts because there is no right or wrong way to do things. Mr. Bubes allows us to learn as we go. He also clarifies that as much as we are learning from him, he is learning from us.
My favorite memory at ANCS was learning during Black History Month in seventh grade. I learned so much about critical people and events that I will never forget. I will miss recess the most. It was always so fun and gave us a break from inside the classroom. I always felt refreshed and ready to learn again when we returned.
I am super excited to go to high school. There will be so many opportunities, and I will discover what I am passionate about. The most valuable skill I learned at ANCS to prepare me for high school is note-taking. I never knew that there were three different methods, and I am so grateful to have learned all of them. The Cornell method of note-taking is my favorite. This method is simple and helps me to grasp and comprehend information so much quicker.
When I finish high school, I want to travel overseas. I want to visit South Korea. I am studying the language and really love the culture, K-pop, and Korean dramas. I also want to visit Italy! My cousin visited, and the food looks so delicious!
I haven't decided about my career but know I want to go into the entertainment industry. Being a director would be so cool. I also want to learn scriptwriting.
I am so grateful for my time at ANCS and look forward to all that I will accomplish in the future!