ANCS Alumna Returns to Teach: Taria's Story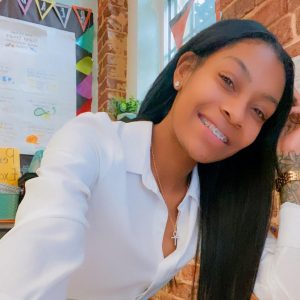 I was born in Atlanta and raised in the Grant Park area. When it was time to select a school for kindergarten, ANCS immediately stood out to my family because of the diversity and sense of community that the school offered. From the moment I enrolled, I felt at home. 
My fondest memory at ANCS is how passionate the teachers and staff were. They made it a point to provide an education beyond academics and ensured that the classroom was a space to learn about kindness, responsibility, appreciation of individuality, and working with others. Those concepts stayed with me throughout my academic career and are infused into the lessons I teach my first graders. 
To be honest, education was not my first career choice, I had goals to pursue fashion design. I did not discover my calling to become a teacher until 2018 when I worked with the ANCS afterschool program. I found that the time I spent with those students meant more to me than anything else in the world. I saw the joy in their eyes when they learned and decided I wanted to be responsible for other children experiencing that positive feeling too. 
I cannot describe how excited I was when I got the offer to teach in Ms. Kellum's first grade class at ANCS. What better place to start my career as an educator than the place where I first fell in love with learning?  
ANCS is still an undeniably special place – walking in the doors on my first day as a teacher felt the same as my first day of school – I felt at home. Ms. Kellum immediately took me under her wing and became my mentor. It was comforting to know that after all these years, the culture of community and family was still there. 
Anyone who has ever taught would agree that being a teacher is not easy work, but it is vital  work. Work that will shape generations in the future. As a teacher, your work immediately impacts another human life. That life influences another and another—and so on, it is a never-ending cycle.
The pandemic has brought an immense amount of pressure to education, but I have watched my ANCS colleagues step up without complaint, support each other, and continue to create that sense of community the school always has the best way possible virtually. My hope is that we will continue to operate as a community with the common goal of ensuring our kids are ready to go out and make this world a better place.
I will forever be grateful to ANCS for its role in shaping my future and allowing me to be a part of shaping the future of others.