ANCS Parent & New York Times Correspondent: Richard's Story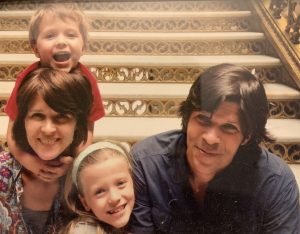 I grew up mostly in New Orleans, and have lived in a bunch of places, but we moved to Grant Park in 2006 from Los Angeles. I was working for the L.A. Times back then, and was transferred to Atlanta to cover the south for the L.A. Times' National Desk. We moved away–to Mexico City–for a couple of years (where I covered Mexico and Central America) but landed back in Grant Park when my career brought me back to Atlanta. We feel very connected to this place; it's hard for us to imagine living anywhere else in Atlanta.
I remember making a whirlwind house-hunting tour of Atlanta neighborhoods in December 2005 after learning I was going to be transferred. One night, my wife Kim and I happened to drop in on a winter holiday performance at the ANCS elementary school campus. It was my first introduction to that warm, but also electric, feeling that ANCS can give you as a parent: A feeling that everyone is working together to build and sustain a community based on love and respect, and working to honor the intelligence and creativity of children.  
My son Silas is in fifth grade. My daughter Eliza also went all the way through ANCS (with a few years of interruption, due to our time in Mexico) and is currently a junior at Maynard Jackson. 
I love the fact that ANCS always seems to be striving to build what Coretta Scott King called "the beloved community."  It's a phrase that her husband used, but I associate it most with Coretta because of her many years working, right here in town, to build a version of it–the kind of place, she once wrote, "in which every person was valued and where all conflicts could be reconciled in a spirit of goodwill and mutual benefit." 
I also love the way the school's faculty and staff are constantly striving to introduce children to the complexities of the world far beyond our ANCS community. I think about Chef Bradley and his homemade pozole. There are 10 million valid ways to begin exploring the dizzying riches of Mexican culture. But starting with really good pozole is a kind of magic shortcut. 
I've covered a lot of institutions (including a lot of schools) in a lot of places. And while journalism often focuses on tangible details–on policies, politics and individual personalities–you quickly learn, as a journalist, how important the more intangible notion of culture is to an institution. "Culture" is a strange concept. It's difficult to measure. But everybody knows it's real, and really important. Building a strong institutional culture requires tremendous work. And it is easy to neglect or trash. I guess that makes me particularly appreciative of the founding families of ANCS, who built its educational culture from scratch, and the people today, particularly the teachers and staff, who are working to sustain that culture and improve it.  
This year has been one of the busiest I've ever had as a reporter. The election has certainly been a wild ride. But the story that affected me the most was the killing of Ahmaud Arbery. There are so many things that Ahmaud's story tells us about our flaws as a region (and as a country), particularly about our shameful failure to acknowledge the sanctity of Black lives. But I mostly think about driving down to Glynn County, Ga., to meet with Ahmaud's mother, Wanda Cooper-Jones. We met one morning on her lawn: the coronavirus was raging, but she was also too traumatized to go inside the house she had shared with her son. We met as journalist and subject, but also as two parents, and it was as parents that we grieved together. Ms. Cooper-Jones's ability to advocate for justice for her son — at a time when she had few allies or people paying attention to his plight — has been nothing short of heroic.
We can all contribute to our children becoming informed citizens. I think children need lots of room to be carefree and silly. But I also think they are capable of plugging into current events at a pretty early age. If they've got teeth in their head, they're old enough for a New York Times subscription!